'Japan and Leiden aren't so far apart after all'
A delegation from Leiden University visited Japan from 18 to 26 November to facilitate cooperation in research and teaching. The delegation also attended the signing of a twinning agreement between the cities of Leiden and Nagasaki and the opening of a bridge to Dejima, once literally the bridge between the Japan and the West.
The Leiden delegation spent a week in Japan, which made it impossible to visit all Leiden's partner universities. A clever solution was found in Tokyo in the shape of a network lunch for the University's partners from this metropolis, an admirable ten of them attending. A flurry of business cards were exchanged – an important tradition in Japan.
Student and staff exchanges
Many top Japanese universities already have agreements with Leiden University, but that is not to say that are no opportunities for further cooperation. Anette van Sandwijk (Faculty of Law): 'Japan is an interesting country for legal scholars: how does a legal system that is based on a Western model work in a non-Western country?' Information about the teaching is by no means always online or available in English, says Van Sandwijk. 'While there, I learned that the Japanese Bachelor's degree programme in Law has much in common with our University College: it's a broad programme that focuses fully on law from the third year only.'
Cleveringa Lecture in Tokyo
Each year, the Leiden University Fund holds Cleveringa Lectures in more than 30 locations worldwide to commemorate the famous protest speech held by Professor Cleveringa on 26 November 1940. The aim is to share academic knowledge and research with a wide audience, but also to keep in touch with Leiden University alumni.
Professor of Japan Studies Ivo Smits gave his Cleveringa lecture to a full house at the Dutch Embassy in Tokyo. The lecture, on 'Holland' as a symbolic language in early-modern Japan, also attracted many Leiden University alumni who now live and work in Japan. Some had even been taught by Smits. There was plenty of opportunity to catch up after the lecture. 'Obviously, it's fantastic to give a Cleveringa Lecture in Japan, but it's also great to hear what our Japan Studies alumni have ended up doing with their lives,' says Smits.
Associate Professor of Cultural Anthropology and Development Sociology Bart Barendregt visited his counterparts at the University of Tokyo, Kyoto University and Ritsumeikan University. Barendregt: 'The research that is conducted here, for instance in the field of social robotics and sustainability, is also relevant to society in the Netherlands.' One example is research by Kyoto University into crisis communication after the Fukushima nuclear disaster. 'We're planning on organising a joint workshop on sustainable technology.'
International community
There was little need for formalities at Kyoto University because Leiden has had a cooperation agreement with it since 1997. Professor of Experimental Physics Jan Aarts had a colleague from Kyoto University visit him in Leiden only recently. Aarts: 'We obviously like to work with top universities, not just for our research, but because we want to be able to send our students to good universities, and to attract good students to Leiden.' Numbers are less important, says Aarts. 'A few students is fine. There don't have to be droves of them. We therefore create a dynamic international community that once again shows our students that academia cares little about borders.'
Ailion family grave
While the rest of the delegation attended individual meetings at Kyoto University, Rector Magnificus Carel Stolker and Professor of Japan Studies Ivo Smits travelled to Kobe. In the hills near Kobe lies the family grave of Ailion, an important benefactor of Leiden University. The Isaac Alfred Ailion Foundation was established in 1983 to promote cultural relations between the Netherlands and Japan. It is a tradition in Japan to regularly maintain one's family grave. As the Ailion family has no descendants, the University has promised that the Rector will clean the grave at regular intervals.
Onderzoeksproject Hirado
The Ailion Foundation has close links with the Leiden Institute for Area Studies and funds publications, congresses, research projects and more. An example of such research is the Hirado Project, in which the Leiden University Institute for History is working alongside the Nichibunken, the International Research Center for Japanese Studies. Hirado was the site of a trading post of the Dutch East India Company, the first Dutch trading post in Japan. More than 500 letters from the trading post in the period 1609-1633 have been preserved. The correspondance is mainly about trade, but also provides insight into relations between the Netherlands and Japan at that time.
Nagasaki University
During its visit to Nagasaki University, the delegation was welcomed by a host with a Leiden accent. Born in Leiden, Noboru Yamashita has lived in Japan since 1999 and has taught at Nagasaki University for a few years already. Nagasaki University is a popular destination for Leiden Japan Studies students in their second year of studies. Ivo Smits: 'The best students are allowed to spend just over six months in Nagasaki. It's a small-scale exchange, but very valuable to us.'
During the visit to Nagasaki University, the delegation was given a tour of the library and the opportunity to meet a number of Dutch Studies students, some of whom will be coming to Leiden soon on an exchange. They could already speak good Dutch.
Twin cities Leiden - Nagasaki
As an important partner of the Municipality of Leiden, the University delegation was present at the signing of the twin town agreement between Leiden and Nagasaki. Jeroen 't Hart (Director of the Student and Educational Affairs Expertise Centre) was there to meet his counterparts from different Japanese universities, but also sits on the board of the Leiden Friends of Nagasaki Foundation. 'I am very proud that the cities are now officially twinned. The agreement will make cooperation in the field of teaching and medical research, for instance, that bit easier still.'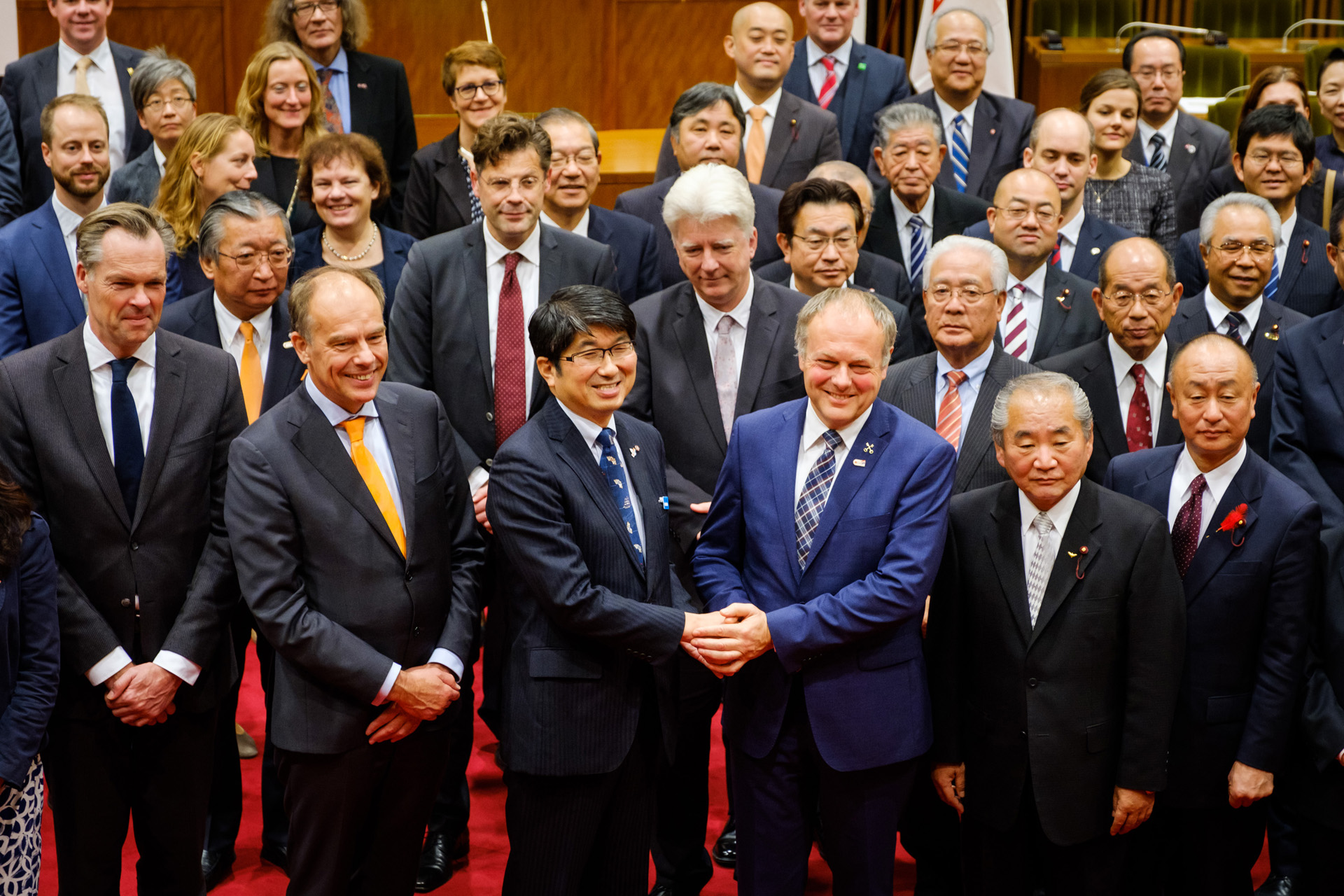 Bridge between Japan and the West
Dejima is the name of an artificial island off the coast of Nagasaki and site of a Dutch trading post in the period 1641-1859. In those days, Dejima was the only place where the closed Japan came into contact with the West. The buildings on the island were for the most part destroyed in a fire in 1798. The Japanese authorities began restoring the trading post in the 1950s. Part of the project is to build a bridge – a symbolic bridge seeing land has since been reclaimed from large parts of the sea surrounding Dejima.
During the delegation's visit to Nagaski, the Omotemonbashi Bridge was officially opened by Princess Laurentien, Japanese Prince Akishino and his wife, Princess Kiko. The bridge is modern, a conscious decision because a Dutch engineer widened the stretch of water between Nagasaki and Dejima at the end of the 19th century to improve drainage. There would be no point in rebuilding the original bridge as it was only a few metres' long in the days of the trading post.
Philipp Franz Von Siebold
Dejima was also home of famous physican and botanist Philipp Franz Von Siebold for some time. From there, he set out to teach Japanese students Western medicine. During his time in Japan, Von Siebold collected a lot of art, animals, minerals and plants. Descendants of the plants that he brought back with him can still be admired at the Leiden Hortus botanicus and a large part of his collection can be seen in Leiden, at the Siebold House Japan Museum, for example.
Further cooperation
'Leiden University has had links with Japan for a long time already,' said Rector Magnificus Carel Stolker. 'The delegation represents many of our faculties and this shows that we consider cooperation with Japanese universities to be important. And speaking of this cooperation, I learned this week that Japan and Leiden aren't so far apart after all.'