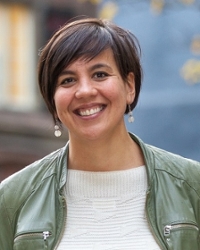 Anouk de Koning
Associate Professor
Name

Dr. A. de Koning

Telephone

E-mail

ORCID iD
Anouk de Koning is associate professor at the department of Cultural Anthropology and Development Sociology. Her current research project, 'Reproducing Europe: Migrant Parenting and Contested Citizenship' documents the shaping of a new, diverse Europe by examining welfare encounters between migrant parents and professionals in Amsterdam, Milan and Paris. Rather than top-down citizenship agendas it has found a deep investment in social citizenship - the obligations of the state to care for its citizens - on the part of parents and professionals.
Previous research projects 
De Koning's previous research project, Dutch Discontents (financed by the NWO Conflict and Security Program) focused on Amsterdam's Diamantbuurt, a neighborhood that since 2004 has served as a symbol of things gone wrong in the Netherlands. By examining the interaction between media, policy and everyday practices of street-level professionals and various residents, this research asked how heated public debates and racialized national narratives translate into policy practices and everyday lives.
De Koning has also worked as a researcher and lecturer in Anthropology at the University of Amsterdam, and was part of a research project on Suriname 's 20th-century social history at the Royal Netherlands Institute of Southeast Asian and Caribbean Studies (KITLV).
Her doctorate research focused on Cairo's experience of economic liberalization in an era of globalization. The resulting book, Global Dreams: Class, Gender and Public Space in Cosmopolitan Cairo (American University in Cairo Press, 2009), examined how young middle-class professionals navigate Cairo's increasingly divided landscape and discusses the rise of a young upper-middle class presence in the work, leisure, and public spaces of the city. Global Dreams is also available in Arabic.
Grants
Grants
2015 ERC starting grant 'Reproducing Europe: Migrant Parenting and Contested Citizenship' (2015-2020).

2010 NWO Conflict and Security Grant for project 'Dutch Discontents'.

2005 NWO Talent Stipend for Fellowship at ICAS, New York University.

2000 Full four-year PhD Scholarship, Amsterdam School Social Science Research, University of Amsterdam.
Key publications
Koning, A. de, and A. Vollebergh (2019) Ordinary Icons: Public Discourses and Everyday Lives in an Anxious Europe. American Anthropologist 121(2): 390–402.
Jaffe, R.K. and A. de Koning (2016) Introducing Urban Anthropology. Abingdon: Routledge. De Koning, A. and W. Modest, eds. (2016) 'Anxious Politics in the European City'. Special Issue Patterns of Prejudice 50(2).
Koning, A. de (2015). "This neighbourhood deserves an espresso bar too": Neoliberalism, Racialization, and Urban Policy. Antipode 47(5): 1203-1223. Koning, A. de (2011) Beyond Ethnicity: Writing Caribbean Histories through Social Spaces, Latin American and Caribbean Ethnic Studies 6(3):259–282.
Koning, A. de (2009) Global Dreams: Class, Gender and Public Space in Cosmopolitan Cairo. Cairo and New York: American University in Cairo Press.
Relevant links
Associate Professor
Faculteit der Sociale Wetenschappen
Culturele Antropologie/ Ontw. Sociologie
No relevant ancillary activities