What works in social work? Large-scale research into social resilience policy interventions
The need for knowledge among practitioners and the lack of an academic knowledge base for specifically collective arrangements of social work in the Netherlands were the reason for Anouk de Koning, Femke Kaulingfreks and Maartje van der Woude to start working on a Dutch Research Agenda (NWA) application for research into social resilience more than two years ago. A short introduction to the three PIs and the Crafting Resilience project, in full "Social work and the Art of Crafting Resilient Societies".
A long-term project, but now 13 researchers, 16 co-funding partners, and 11 collaboration partners have joined the consortium to investigate what is needed to realise social resilience in an effective, democratic and just manner. And successfully: the consortium has been awarded an NWA research grant of 5 million.
Equal collaboration between academics and applied sciences
The equal collaboration between academic partners and researchers at universities of applied sciences (HBO) sets this research project apart. This was one of the key conditions for Femke Kaulingfreks to participate in the project application. The Professor of Youth and Society at Inholland University of Applied Sciences did not want to be involved in the knowledge utilization part only, at the very end of a project, something that often happens in research projects. Femke: 'Our central role in this project as a university of applied sciences is quite special. The project's ambition is to make the research findings suitable for use in practice, and to do so successfully, it is much more productive if you are involved as a researcher from the start.' Anouk adds: 'In our project, experienced social work lecturers conduct research into social work and university academics contribute to the realization of the applied materials for practitioners. This creates valuable knowledge exchange.'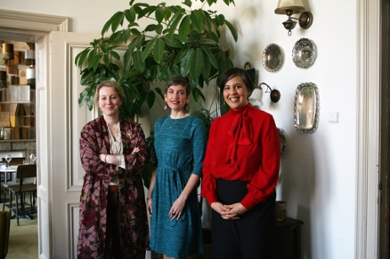 The intersection of social work, care and safety
Anouk and Femke have known each other for years. Anouk was once on the search committee at Radboud University to which Femke had applied. Femke initially had some doubts when Anouk proposed to develop the grant application together, but when they were able to secure a proportional division of roles between general and applied universities, she was convinced, and they started writing the application. Anouk soon also involved Professor of Law & Society Maartje van der Woude, with whom she leads the interdisciplinary university-wide research programme Social Citizenship and Migration. Maartje was immediately enthusiastic about the idea of developing the security angle within the research: 'This project tied in very nicely with issues I have been working on for the past years. I also felt a growing urge to think about ways in which scientific knowledge could be translated into actual products and insights that would resonate with the daily reality in which, for instance, police professionals must operate in the Netherlands. Both in the criminal justice and the social policy domain, there is an increasing convergence between care and security and a lot is expected from professionals in this respect, but the underlying knowledge about such collaborations is still lacking.'
Need from practice
The social partners that participate are also enthusiastic. The conceptualization of the project started from the needs from the professional field. Anouk: 'We didn't come up with our own ideas: what is academically interesting, but we entered into an open discussion with various partners from the social and security domain.' The project focuses on social resilience initiatives in eight different cities in the Netherlands. Femke: 'In the Netherlands, social work is not an academic discipline. Professionals are often busy with in their everyday work practice, so there is no time to zoom out and reflect. They often sense that one thing works better than the other, but they don't know why. So just like our partners at several ministries and the national police, such partners are happy that there will be a large-scale examination of what works and what doesn't within social work.'
Community workshops and long-term interdisciplinary cooperation
The aim is to convert the acquired knowledge into material for practical use. Femke: 'We are going to look at different practices and projects geared towards enhancing social resilience. We will be doing this in eight cities in the Netherlands over a period of four years. Where do we see new forms of cooperation emerge? What are effective elements that enable social resilience? The goal is to find shared principles that can be applied in multiple places.' The insights are then translated into tools for practical and educational use. Each line of research is envisioned to lead to a textbook for the training of social and security professionals, there will be training events for professionals and media productions such as documentaries or podcasts will be made to reach a wider audience.
The project "Social Work and the Art of Crafting Resilient Societies" [Crafting Resilience] will start in September and will host 6 PhD candidates and 3 Postdoc researchers. The project asks what is needed to realise effective, democratic and just collaborations between citizens and government. Cultural anthropologist Anouk de Koning is PI of the first research line that focuses on the administrative relationships that are shaped under the heading of social resilience. Femke Kaulingreks is the PI of the second research line that focuses on the professional politics of social work. Maartje van der Woude is the PI of the third research line that focuses on frictions and dilemmas of social resilience within the security domain.