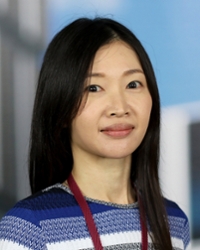 Anita Liao
PhD candidate
Name

C. Liao MSc

Telephone

E-mail

ORCID iD
Anita Liao (M.Sc.) is a PhD student at the Division of Drug Discovery & Safety.
I joined the Master's program of Bio-pharmaceutical science at Leiden University in 2017. My first internship was performed at the division of Drug Discovery and Safety in the lab of Prof. Erik Danen, where I explored the role of the GRHL2 transcription factor in different breast cancer subtypes. To further link basic science into translational medicine, I join the Laboratory of Experimental Urology at Erasmus MC Rotterdam, under supervision of Dr. Wytske M. van Weerden for my second internship. The project is to use next generation androgen receptor antagonist (Apalutamide) to enhance radiosensitivity and improve radiotherapy responses in prostate cancer patients, and it's under mechanism in DNA repair process.
After obtaining my Master's degree, I started my PhD at the division of Drug Discovery and Safety at LACDR, at the group of Prof. Erik Danen in 2019. My project is focusing on image-based antibody-mediated tumor immunity. I will establish a high throughput confocal microscopy-based screening method to determine the cytotoxic potential of T-cells recruited by bispecific antibody in 3D tumor spheroids model.
PhD candidate
Science
Leiden Academic Centre for Drug Research
LACDR/Toxicology
Work address
Gorlaeus Building
Einsteinweg 55
2333 CC Leiden
Room number GE2.07
Contact
No relevant ancillary activities