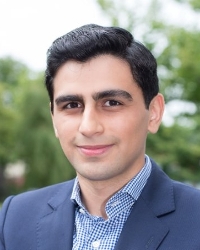 Ali Mohammad
Gastmedewerker
Name

Dr. A.H.A. Mohammad

Telephone

E-mail
A.H.A. (Ali) Mohammad LL.M. is a PhD Candidate at the Department of Constitutional and Administrative Law of Leiden University. His research concerns market activities of Higher Education Institutes. In 2015 he received the NWO Research Talent Grant for conducting this research. He also lectures in the course Introduction to Administrative Law and in post-academic courses (on Academic Entrepreneurship, State Aid Law for Research, Development & Innovation and Market & Government Act).
More information about Ali Mohammad
Curriculum Vitae
Ali Mohammad received his Bachelor Degree in Law and his Master Degree in Constitutional & Administrative Law from Leiden University. He obtained his Minor in Mergers & Acquisitions from the Rotterdam School of Management. During his Bachelor studies he successfully completed the Honours College Law track of Leiden University. He published an article on private activities of higher education institutes, on the basis of his bachelor thesis research. For this publication he was awarded the NVOR/Mentink Prize for debuting authors in the field of Education Law.
During his Master Studies Ali Mohammad pursued the Talent Programme Research Track of Leiden Law School. He was involved in the evaluation of the Administrative Debt Regulation of the Dutch General Administrative Law Act.
Next to his studies he was research assistant at the Department of Constitutional and Administrative Law and editorial assistant at the Dutch Journal for Human Rights, published by the Dutch Section of the International Commission of Jurists. In addition he has worked as Public Law Paralegal at the Amsterdam Law Firm Stibbe and as intern at the Rotterdam Firm AKD Lawyers & Civil Notaries.
On 1 January 2014 Ali Mohammad started as a Junior Lecturer at the Department of Constitutional and Administrative Law of Leiden University. At that time he taught the first year courses Introduction to Constitutional Law and Introduction to Administrative Law. In co-operation with the Rotterdam Consultancy Desk Wetgevingswerken he published a research report on fraud with personal health budgets for the Dutch Ministry of Health. Since 1 September 2015 Ali Mohammad has been working on his PhD Research.
Gastmedewerker
Faculteit Rechtsgeleerdheid
Instituut voor Publiekrecht
Staats- en Bestuursrecht