Research project
Promoting reading skills through electronic books for grade 1 students
What is the effect of practicing with electronic books on reading skills for grade 1 students?
Duration

2015 - 2016

Contact

Funding

Nationaal Regieorgaan Onderwijsonderzoek (NRO)

Partners

Driestar educatief
Nationaal Regieorgaan Onderwijsonderzoek
Promoting reading skills through electronic books for grade 1 students
Teachers are exposed to great differences in emergent and early literacy in first grade students. Therefore it is important to look for methods and means to tailor instruction to meet individual needs (differentiation), so all students can benefit. Differentiation is often associated with an increase of workload and often there is a lack of manpower to realize this. Aim of the study was to help grade 1 teachers to achieve three goals:
Differentiated reading instruction through use of ICT
so poor readers are able to easily practice reading skills and
and without an increase of teachers' workload.
The electronic book is a promising tool to accomplish these goals and to give poor readers the opportunity to have success experiences reading stories.
Research method
Two experimental and one control group were compared:
Received the regular language and reading curriculum and read electronic books with highlighted texts throughout the school year.
Received the regular language and reading curriculum and read electronic books without highlighted texts throughout school year.
Received just the regular language and reading curriculum.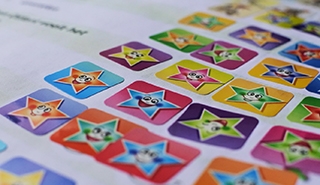 Four times a week students read electronic books on moments that fitted the curriculum. Students or teachers kept track of the books they read on a stencil that listed the titles of the books. Each time a book was read, the student received a sticker on this stencil. This way the teacher gained insight in the amount of practice. For the students it was motivating to earn as much stickers as possible, visualizing the amount of reading practice.
Poor readers or students who would benefit from practicing their reading skills were selected by the teacher to participate in the research. Both at the beginning and the end of the school year technical reading skills and vocabulary were tested. All students improved as a result of reading the electronic books, but most effects were found for poor readers. Practicing with electronic books with highlighted text was more effective in comparison to books with non-highlighted text.
Recommendations
The average percentage realized reading sessions was high, namely 92%. This number shows that it was simple to implement the reading sessions on a daily base. Only four groups didn't succeed in reading all 24 selected electronic books as a result of illness, holidays or non-working computers.
To implement digital books on a large scale it is necessary to extend the availability of electronic books. One way to accomplish this is to digitalize printed books yourself, however it would be even better if publishers offer large numbers of electronic books on a public platform and design in line with evidence based formats.