Research project
Covering the Ocean. Newspapers and Information Management in the Atlantic World, 1580-1820
This project investigates how early print media covered distant but urgent geopolitical conflicts, using newspapers from the Low Countries, north and south.
Contact

Funding

NWO-Vidi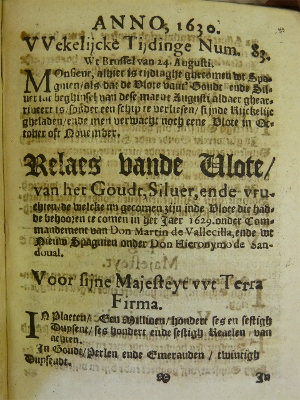 The Low Countries, with its highly advanced print culture, formed Europe's clearing house for maritime news. Events in the Americas and Africa in particular had a direct bearing on the balance of power at home, and were reported on with great intensity.
Atlantic news represented a unique challenge, as the tension between the infrequent arrival of information and a regular deadline consistently jeopardized the newspapers' credibility.
In the Dutch Republic, with its culture of open discussion, a 'public Atlantic' emerged. In the more autocratic Southern Netherlands, by contrast, Atlantic news was successfully managed by the royal government. An interdisciplinary study of these politically opposing yet linguistically identical media landscapes deepens our understanding of the European media's priorities, strategies, and biases that continue to be relevant in a globalized world.
For a first impression of the methodological framework of this project, see the article "(No) News from the Western Front: The Weekly Press of the Low Countries and the Making of Atlantic News", Sixteenth Century Journal 44-3 (2013): 739-60.
Other results from the project include:
- Tiffany Bousard, "Dealing with Defeat: Dutch Brazil (1624) and English Jamaica (1655) in the Newspapers from the Habsburg Netherlands", Early Modern Low Countries 2-1 (2018): 24-44.
- Esther Baakman, "'Their Power has been Broken, the Danger had Passed': Dutch Newspaper Coverage of the Berbice Slave Revolt, 1763", Early Modern Low Countries 2-1 (2018): 45-67.
- Michiel van Groesen, "Reading Newspapers in the Dutch Golden Age", Media History 22-3/4 (2016): 334-52.