Research project
SETinSTONE
A retrospective impact assessment of human and environmental resource usage in Late Bronze Age Mycenaean Monumental Architecture, Greece
Duration

2015 - 2020

Contact

Funding

Partners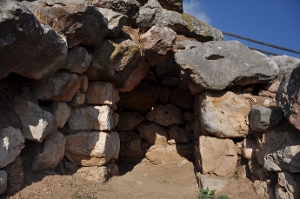 Research question
This project seeks to investigate how human and natural resources, which interacted in the core regions of Mycenaean Greece, were employed by extant elites in order to implement their monumental building programmes.
Why and how were building programmes executed in the core regions of the Greek mainland?
Were the resources, human and other, available to carry this through?
Can building to such an extent have had an impact, through exhaustion of resources, on the end of the Mycenaean civilization c. 1200 BC and, if so, what was the extent of its impact?
Project description
Greek Mycenaean monumental architecture has been well-studied. However, the extent to which large-scale building programmes contributed to the socioeconomic and political changes and crises that took place in Late Bronze Age Greece (c.1600-1100 BC) has not been studied. The project aims to investigate human and natural resources which interacted in the core regions of Mycenaean Greece. There, elites mobilized these resources to implement their monumental building programmes. It seeks to reveal how and why these constructions were accomplished, and what impact such large-scale prolonged building programmes had on the population over time. Methodologically, practical building processes and inherent social practices are captured via an interdisciplinary methodology consisting of econometric, statistic, anthropological and theoretical approaches. This combination of approaches is novel in its scope because it brings together in a unique way the wide range of scattered data available on many aspects of human ecology and past economies of the region. As such, multi-layered data sets will illuminate the many interconnected networks of human and resource interactions that impacted on people's day-to-day activities, first, but also on the economic, cultural and socio-political situations over time in these regions. The local Mycenaean phenomena governing this period will be embedded into the much wider ongoing debate of the societal 'collapse' indicative of the final phases of the Late Bronze Age in the East Mediterranean more generally in order to understand which role it played on this much larger scale. As such, this project contributes in demonstrating the long-term insights archaeological research achieves in studying and understanding very human issues, and it illustrates the contemporary relevance of archaeological studies today and for the future.