Dissertation
Guidance documents of the European Commission in the Dutch legal order
On 11 February 2020, Clara van Dam defended her thesis 'Guidance documents of the European Commission in the Dutch legal order'. The doctoral research was supervised by Prof. W. den Ouden and Prof. J.E. van den Brink (UvA).
Author

Clara van Dam

Date

11 February 2020

Links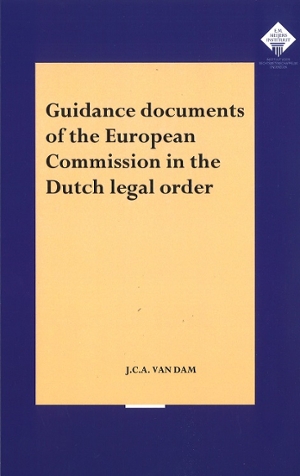 With the issuing of guidance documents the European Commission assists the Member States in the implementation of Union law. This thesis seeks to unravel the process of governance through guidance by tracing its role and legal implications in the Dutch legal order.The first part explores the use of guidance documents by Dutch authorities and courts. Along the lines of five types of guidance and four perspectives on their binding force, different roles of guidance are discerned. National courts act as counterbalancing or facilitating actors by reinforcing or downplaying the role of guidance documents in implementation processes.The second part assesses the implications in the light of legal principles. To this end, it formulates four 'promises', or ideal effects, that outline how the use of guidance documents could contribute to a predictable, consistent and transparent implementation process, whilst respecting the rule of EU hard law.
The analysis finds that, in practice, these 'promises of guidance' are not always fulfilled: a gap between promise and practice exists.The findings thus show how the issuing and use of guidance risks to challenge the rule of law that is so fundamental to the EU legal order. This thesis therefore invites to rethink governance through guidance.