Book
First comparative textbook on East African Community law and EU law by Leiden University
Published by Brill Nijhoff and written by leading experts including national judges, academics and practitioners East African Community Law is the first comparative as well as open access textbook on EAC law. The book provides a key resource for the research, teaching, and practice of EAC law. It also gives a systematic comparison with the law of the European Union and lessons learned from the EU experience with regional integration.
Author

Emmanuel Ugirashebuja, John Eudes Ruhangisa, Tom Ottervanger and Armin Cuyvers

Date

27 April 2017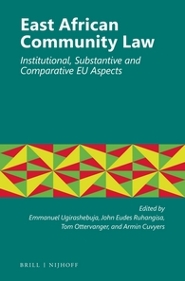 The book was initiated by the Leiden Centre for EAC law (LEAC), in close cooperation with Hon. Justice Dr Ugirashebuja, the current President of the East African Court of Justice. Thanks to the generous support of the European Union, Allen & Overy LLP, and the Europa Institute of the University of Leiden, the book is also freely available online, for example allowing universities in the region to design a course on EAC law around the textbook and providing national courts access to a text on the regional law they are obligated to apply.
The launch of the book will be accompanied by a conference in Nairobi on the 27th of April, focusing on challenges and opportunities of the EAC internal market for businesses.
The East African Community is a regional organization currently comprising the Republics of Burundi, Kenya, Rwanda, South Sudan, the United Republic of Tanzania, and the Republic of Uganda. The EAC aims at widening and deepening co-operation among its Partner States. It has established a Customs Union (2005) and a Common Market (2010), and is in the process of establishing a Monetary Union. Its ultimate objective is to establish a complete political (con)federation. The European Union (EU) was an important source of inspiration and provided a normative model for the EAC.
The Leiden Centre for EAC Law is part of the Europa Institute of Leiden University. The objective of the Centre is to comparatively apply its expertise in European Integration to the East African Community and other forms of regional integration. The LEAC also collaborates under the aegis of the Leiden African Studies Centre.
For questions or further information please contact the co-editors of the book, Prof. Tom Ottervanger or Dr. Armin Cuyvers.