Stem cells as cure
Leiden has a long history in the treatment of blood cell cancer. Research to find better therapies never stands still. One of the potential treatments currently being worked on is a 'living medicine'.
Stem cell transplants
LUMC treats many patients with different sorts of blood cell cancer, including leukaemia, lymphoma and multiple myeloma (Kahler's disease). LUMC was involved in the first bone marrow transplant, which was carried out on a leukaemia patient in 1968. For this sort of transplant, the patient's bone marrow is first broken down using chemotherapy or radiation therapy. Then he or she receives new stem cells from a donor. 'The stem cells that form blood are quite robust,' says Hendrik Veelken, professor of Haematology. 'They find their way to the bone marrow and construct an entirely new blood-producing system and a good immune system, which is needed to be able to attack viruses or other pathogens.' A donor's immune cells can also attack a pantient's cancer cells that cannot be destroyed with chemotherapy or radiation therapy. This is one of the main areas of research in the Haematology department.
These days it is usually no longer necessary to remove a donor's bone marrow to be able to harvest stem cells. By giving the donor growth hormones, one can simply take some blood using a needle. The stem cells are then extracted from the blood in the lab and subsequently administered to the patient.
Living medicine
Professor Fred Falkenburg and senior lecturer of Haematology Mirjam Heemskerk are working with their research groups on the so-called living medicine. That consists of donor immune cells that are administered during or after a stem cell transplant to remove any cancer cells left behind. To do this, T-cells – a certain type of immune cell – from the blood of a donor are processed in such a way that they can attack a cancer patient's tumour cells.
T-cell receptor gene therapy
'The challenge is making sure that only the malignant cells are attacked and not the healthy tissues. It's very important to select the right T-cells,' according to Heemskerk. Her research group has now discovered two T-cell receptors that only react to tumour cells and not to healthy cells. These receptors act as sensors on the outside of a T-cell, which the cell uses to monitor the environment. When T-cells encounter something dangerous, such as a virus, or even a cancer cell, they can try to render it harmless. 'We are currently studying whether we can transfer this T-cell receptor to the patient's own immune cells. We call this T-cell receptor gene therapy.' This research is initially focused on ovarian cancer, but the same principle can be used to treat other types of cancer.'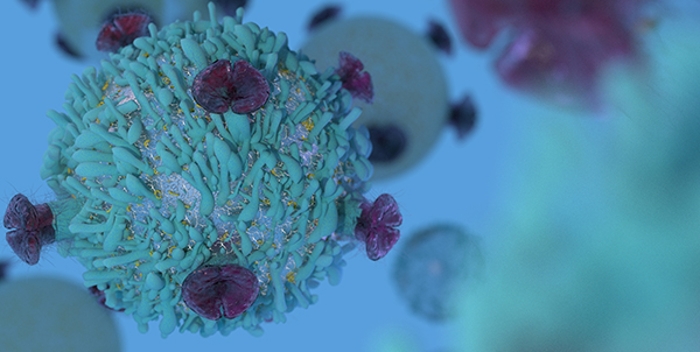 News item: LUMC signs collaboration agreement for immune therapy against cancer
Help development of the living medicine, Bontius foundation (in Dutch)