New book by Tom Buitelaar on the cooperation between the United Nations and the ICC in Congo
On 22 November, Tom Buitelaar, Assistant Professor at the Institute of Security and Global Affairs, presents his new book 'Assisting International Justice'. Five questions to Buitelaar about the book and the book presentation.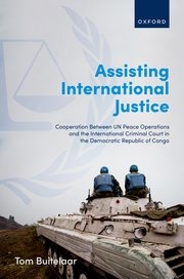 What is your book about?
Tom Buitelaar: 'My book is about the cooperation between United Nations peace operations and the International Criminal Court (ICC). More concretely, it explains why UN peacekeepers assist the ICC through information-sharing, logistical and security assistance, political support, and arrests. It does so by doing a deep dive into the ICC and the UN's collaborative but contingent relationship in the Democratic Republic of Congo (DRC). It also conducts smaller investigations into cooperation between the two organisations in the Central African Republic, Côte d'Ivoire, Mali, and Sudan.'
Why did you choose to study the specific case of the UN mission in Congo?
Buitelaar: 'The ICC and the UN were both heavily involved in this country in Central Africa in the 2000s and 2010s, although both are now drawing down their presence. In a way, it was a laboratory for new practices in peacekeeping, especially regarding the protection of civilians. For the ICC, the DRC is one of its longest-running, and most active investigations. For these reasons, the DRC case provided a lot of empirical material to study, which enabled me to test my key hypotheses.
To be honest, I also find the conflict in eastern DRC fascinating. Despite 20 years of international intervention by numerous actors, the fighting is escalating once more, with a continued heavy toll on civilians; last month, the International Organisation for Migration (IOM) reported a record high of 6.9 million displaced. We should continue to study why international interveners have not managed to resolve this conflict in a more sustainable way.'
Why is it important to do research on this topic?
Buitelaar: 'In addition to the above, this subject tells us a lot about how peace operations function and what the role of international criminal justice is in conflicts. In particular, the book shows how peace operations balance sometimes incompatible missions (in this case: promoting peace while supporting prosecutions that could sometimes undermine stability) and what kinds of factors come into play when deciding how to strike this balance. Furthermore, the DRC case contains plenty of examples of how justice can become politicised, as well as of the strong dependency on cooperation of both states and international organisations and the difficulties of doing investigations in conflict-ridden countries.'
'We should continue to study why international interveners have not managed to resolve the conflict in the DRC in a more sustainable way.'
What is the key message you hope practitioners will take away from your book?
Buitelaar: 'I hope that practitioners will more critically address some of the dilemmas that the book exposes. For example, although the UN likes to underline that there can be 'no peace without justice', what its peacemakers should do when justice threatens to undermine peace negotiations is still not entirely clear. As I have also shown in other research, the UN and other interveners tend to downplay tensions but then end up tacitly supporting impunity, because they recognise that peace cannot be obtained without compromising with some power brokers with blood on their hands. There should be more serious thinking about these issues and an attempt to address them openly and head-on.
Second, I hope that the book shows that the UN Security Council, which authorises the mandates for peace operations, should think more carefully about the different tasks that it assigns to peace operations. The institution, at least until recently, has tended to incorporate many different missions for peace operations, without sufficient guidance on what to do when these missions contradict each other.'
What can we expect from the book presentation?
Buitelaar: 'I look forward to an inspiring discussion on the above subjects. I will present my research findings, and a varied panel of academics and practitioners will respond to them. I also hope that we have plenty of time for a Q&A and discussion with the audience. To celebrate, LUCIR is sponsoring a drinks reception afterwards, so I hope that we can continue our conversations there, hopefully about more than just the book!'