Book presentation
Book presentation 'Assisting International Justice'
Date

Wednesday 22 November 2023

Time

Location

Room

3.46
On 22 November from 15.00 to 17.00 hrs. Tom Buitelaar will launch his book Assisting International Justice: Cooperation Between UN Peacekeepers and the International Criminal Court in the Democratic Republic of Congo (Oxford University Press, October 2023). This event is co-organised with the Leiden University Centre for International Relations (LUCIR).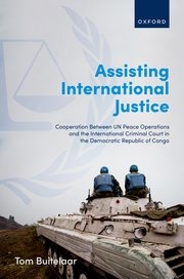 About the book
The book reveals the conditions under which UN peacekeepers address impunity in their mission areas. It presents an original single-country case study of assistance provided by the UN mission in the Democratic Republic of Congo, as well as smaller analyses of cooperation in the Central African Republic, Côte d'Ivoire, Mali, and Sudan. Relying on new empirical material, including over 130 interviews of key decision-makers, and comprehensive archival research, Assisting International Justice explores how the UN navigates the terrain of conflict mediation and punitive accountability and uncovers the collaborative but contingent relationship between the UN and the ICC.
The book will be of interest to scholars of international criminal justice, international conflict management, as well as those interested in the ICC's anti-impunity efforts in Africa. It also speaks to policymakers who want to know more about the opportunities and challenges of cooperation between different actors as they seek to prosecute war crimes in conflict zones.
Programme
The book launch will feature a presentation of the book's main findings by the author, followed by a panel which will (critically) assess its contributions. There is also ample room for questions from the audience. The book presentation will be followed by a reception.
Panellists
Vanessa Newby, Assistant Professor, Institute of Security and Global Affairs, Leiden University
Valérie Arnould, Legal and Policy Advisor Transitional Justice, Avocats Sans Frontières Bruxelles
Bert Koenders, Professor Peace, Justice and Security, Leiden University. Former Dutch Minister of Foreign Affairs and Special Representative of the Secretary-General for the UN missions in Mali and Côte d'Ivoire
Carolien Jacobs, Assistant Professor, Van Vollenhoven Instituut, Leiden University