Leiden University bids farewell to Mayor Lenferink
This week, Leiden University bade farewell to Henri Lenferink, who is retiring after 20 years as mayor of Leiden. During a lunch at the Hortus botanicus, with guests including the Executive Board and various deans and former administrators, those present reflected on how much Lenferink has meant for the university.
In a speech to Lenferink, President of the Executive Board Annetje Ottow mentioned the special relationship between the university and the city. 'The growing ties and synergy between the university and the city and its people has only increased under your mayorship. You sought and forged bonds', she said to Lenferink. 'The sparkle you bring wherever you go has been hugely important to all of us. We really are going to miss you.'
Lenferink also received thanks for his commitment to the city and university during. He played a leading role in bringing the Netherlands Institute for Space Research (SRON) to Leiden, for instance. And he contributed to the growth and development of Leiden Bio Science Park as well as being an enthusiastic ambassador for Leiden, European City of Science in 2022. Former rector magnificus Carel Stolker praised Lenferink for his intense love of the people of Leiden, great collaboration and sense of humour. 'You were always there and brought a light touch to things, particularly in your many speeches.'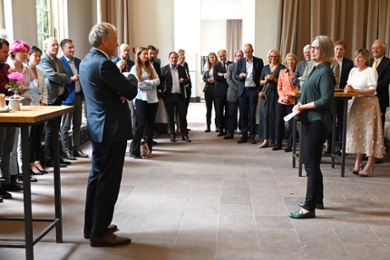 The mayor was given various gifts during the lunch. He was made a keyholder of the Leiden University Fund for the next ten years by Vice-Chairman Martijn Ridderbos. 'To maintain our relationship, for now and in the future', said Ridderbos. UBL director Kurt De Belder presented with Lenferink with a huge, everlasting library card that means he will always be welcome at the university library. And One last surprise for Lenferink was his own spot in the Great Auditorium in the Academy Building: there is now a bench with his name on it.
Lenferink was clearly moved to receive the gifts. 'The city is very dear to my heart but so too is this university. I have really treasured all the contacts. Regardless whether I was visiting professors or deans, I heard the most wonderful stories. Many led to great collaborations and hundreds of projects in the city. I've thoroughly enjoyed myself.'
Looking back on 20 years of Mayor Lenferink
Lenferink poses together with Annetje Ottow, President of the Executive Board, with Leiden2022 tuk-tuks. Leiden was European City of Science in 2022, thanks also to Lenferink's initiative.

In January 2021, Lenferink was awarded the Scaliger medal by Leiden University as thanks for his dedication to Leiden as a university city. Photo: Monique Shaw

In January 2019, Lenferink and Rector Magnificus Carel Stolker opened a photo exhibition in Leiden town hall about 444 years of Leiden University. Lenferink was given 444 socks by Stolker, who in turn received a pair of Leiden sneakers from the mayor. Photo: Taco van der Eb

In 2017, Lenferink travelled to Japan with Leiden researchers. The city partnership between Leiden and Nagasaki was signed there. Photo: Sean van der Steen

Lenferink awarded medals to many a researcher and administrator from Leiden University. Here in a characteristic pose with Willem te Beest, Vice-Chairman of the Executive Board, who was made an Officer in the Order of Orange-Nassau on his retirement in 2017. Photo: Marc de Haan

Every year, Lenferink addressed the new first-year students at the opening of the EL CID introduction week. Here at Hooglandse kerk in 2015. Photo: Marc de Haan

In 2009, Lenferink visited the Sweat Room and Hortus botanicus with the Swedish royal couple during their state visit. Crown Prince Willem-Alexander shows them his signature.
Text: Tom Janssen
Banner photo: Emile van Aelst