Simone van der Hof delivers 2022 Mulock Houwer Lecture
On 24 November 2022, Simone van der Hof delivered the annual Mulock Houwer Lecture. The title of the lecture was 'Niet om de knikkers maar om het spel – Over de digitale versie van een vergeten kinderrecht'.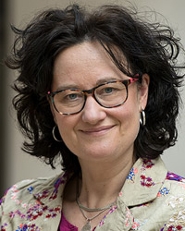 The right of children to play carefree in this digital age, without being misled or abused, that was what the eleventh Mulock Houwer Lecture was about. In her lecture, Simone van der Hof showed that the often forgotten right to play deserves more attention, especially in today's world. She explained how important digital play has become for children, but also what forms of coercion and exploitation they can encounter online.
Simone van der Hof calls for the mandatory testing of digital products and services based on children's rights. In doing so, she is following, as it were, in the footsteps of Daan Mulock Houwer in the present day. He wanted to protect children from coercion and exploitation, but in his time could not yet conceive the digital forms this would take.
With the annual Mulock Houwer Lecture, the Netherlands Youth Institute and Defence for Children want to draw more attention to the work and significance of pioneers, innovators and influential thinkers and doers from the history of youth care.
Daan Mulock Houwer (1903-1985) was a prominent figure in the history of youth care in the Netherlands. Raised in institutions and foster homes, in later life he would become an ardent advocate of the modernisation of youth care and child protection, in which the child was to be the starting point.
The text of the lecture (in Dutch) is available here.