Jorrit Rijpma speaks in Zagreb on the accession to Schengen
On 8 December 2022, the day that Croatia was given the green light to fully join the Schengen area, the faculty of Law of the University of Zagreb organised the UNESCO Chair Conference on Schengen and external borders. Jorrit Rijpma, Professor of European Law was invited to address the legal and political background to the Schengen accession process.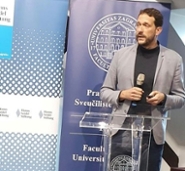 He discussed the repeated refusal to allow the lifting of internal border controls with Romania and Bulgaria, which has resulted in their prolonged exclusion from the benefits of free travel. At the same time he stressed the need for fundamental rights monitoring at the external borders. Rijpma also presented, together with Fabian Lutz from the European Commission, a project leading up to a Schengen conference to be held in June next year, in Brussels.