These are the nominees for the 2022 Faculty Teaching Prize!
Every year, an outstanding lecturer receives the Faculty Teaching Prize. Lecturers are nominated by students, and a jury – comprising students and lecturers – decides who will receive the prize. The prize will be awarded during the official opening of the academic year on 7 September. Meet this year's nominees.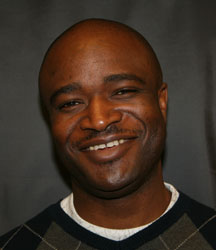 Akinyinka Akinyoade, researcher and University Lecturer African Studies
'It might be a cliché, but it's true: it's a privilege and an honour to be nominated for this prize. As a student and later as a teacher, I learned how to operate in the lecture hall. In my own lectures, I try to strike a balance. You are confronted with expectations of students who already have valuable insights into the subject, but also with students for whom the subject is completely new. I try to find a balance between all those students with different academic knowledge and backgrounds. In the end, this allows everyone to achieve their learning objective, regardless of whether it's simple or complex.
As I see it, good teaching is a two-way exchange between the student on the one hand and the teacher or facilitator on the other. The facilitator guides and steers this exchange and ensures that the students not only achieve their learning objectives but also acquire academic and practical skills in a stimulating and safe environment. This environment also encourages students to challenge the ideas and knowledge of the facilitator, giving them the space to improve themselves.'
Maarten Kossmann, Professor of Berber Studies
'There are many different ways to teach, which is only a good thing. Some students are more comfortable with one approach, and other students feel more at home with another. For me, the very twentieth-century concept of personal development plays a key role. You want to give your students something to take away with them that will help them to look at the world more critically.
I try to tell a story and hope that the students respond to it, and for that, a good and safe atmosphere in the classroom is essential. At Linguistics, I have the privilege of teaching the Speech Sounds of the World course, where students learn to pronounce and recognise a wide range of unusual and unfamiliar sounds. Trying out these sounds in front of the rest of the group can be quite daunting, but I think that Dušan Milenković, the student assistant, and I manage to create a relaxed atmosphere and provide constructive feedback so that no one feels unsafe. I sometimes hear from students that this was their favourite course, and I really believe that the reason for this isn't so much the study material or the teacher, but rather the atmosphere among the students.
Students are adults and you have to treat them as such. So, I'm not really keen on formats that constantly test whether everyone understands everything or require homework assignments to be marked every week. I try to appeal to the students' creativity by giving them relatively open assignments, also in terms of format. At our department, for almost every course students have to write a paper at the end of the first year; why not conclude another course with a podcast or a fictitious web shop? I consider it a tremendous honour to have been nominated for the Teaching Prize, partly because of this.'
Ying-ting Wang,

Lecturer in Mandarin
'I was bewildered when I found out I'd been nominated. I thought it might be another wrong email addressed to one of the many other people who have the surname 'Wang' at the university. Now that the committee has confirmed that I really have been nominated, I'm happy and grateful for this lovely surprise!
I am sincere in what I do and I enjoy teaching and learning from my colleagues and students. I often leave the lecture hall with a smile on my face. If I make a mistake or don't know something, I always admit it, take a look at it at home and come back with the right answer. Although I'm the teacher, every year I continue to learn and evolve professionally alongside my colleagues and students. For example, I am constantly making changes to my courses, based on reflections on what could have gone better.
I believe that good teaching is welcoming and inspiring, where students are not afraid to make mistakes so that they can learn from them. It encourages and challenges students to explore what capabilities and potentials that they might have, with the teachers being supportive and giving corrective feedback. Eventually, they gain deeper insights in what they can do well (and enjoy!) and not so well. They can prioritise their tasks to pursue their dreams.
Astrid Van Weyenberg, University Lecturer in Literature
'I'm honoured that students took the trouble to nominate me. To me, it's important that teaching isn't just about transferring knowledge, but also about facilitating a conversation. As a teacher, it's your job to guide that conversation in such a way that everyone can and dares to join in. Then you teach in a way that activates students – it's dynamic, it can be fun without becoming entertainment, and at the same time it demands something from students. I truly believe that the more you expect of students (and here I'm talking about effort, not grades), the more they can show you what they can do and the more they learn. And most of all, there must be room for them to make mistakes, to say something stupid, to slip up, to crack a bad joke (and I make my fair share of those!).
Being yourself is also important. That's something I also say to new lecturers in my role as teaching coach at the faculty: observe and learn from others. Everyone has to find what works for them; pretending to be someone else never works. I also think it's important that courses are updated regularly. I have been able to work on that for a number of years now, thanks to subsidies and to my permanent appointment, but it's a lot harder for temporary lecturers who don't have that luxury. As far as I'm concerned, in the future all lecturers should be given space and time for innovation in teaching. After all, good teaching isn't something that can be rushed, but unfortunately, partly due to scaling up, that's exactly what our teaching often is these days.
Finally, I would like to mention my colleague Yasco Horsman and student assistant Nathalie Muffels. This nomination is the result of educational innovation projects that I worked on with them, which we couldn't have done without the support of a whole bunch of other staff members at the faculty. In that respect, it's a shame that the focus is usually on individuals in the academic world, while cooperation is so crucial for creating a good teaching environment and for science in a broader sense.'