Jongkind and Drahmann win AB prize for best annotation 2021
At the Annual Meeting of the Tijdschrift Administratiefrechtelijke Beslissingen (AB) (Administrative Decisions Magazine) on Friday 21 January 2022, the winners of the annotation of 2021 were announced: Demy Jongkind and Annemarie Drahmann, from the Department of Constitutional and Administrative Law, Leiden Law School.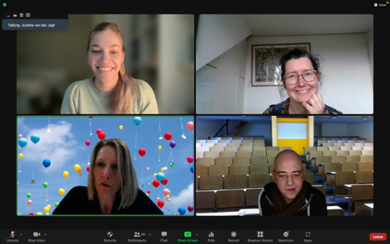 An annotation is a commentary on a decision published in a case law journal. The winning annotation (in Dutch) (AB 2021/332) was written about a decision concerning limited subsidies. The Administrative Law Division of the Council of State had ruled that the policy whereby a patient organisation cannot receive an institutional subsidy if a comparable organisation has already received a subsidy, was not in breach of the duty to give reasons and due care. Jongkind and Drahmann raise the question of to what extent the Minister's decision was not in conflict with the principle of equal opportunities.
This year the jury was led by Juliette van der Jagt-Jobsen who had to choose from 350 annotations. According to the jury, Jongkind en Drahmann set out in a well-structured note what the case was about and the decision of the court. In clear wording, they place the decision in the light of other relevant case law. They deal mainly with the question whether it was not in conflict with the principle of equal opportunities to give parties to whom subsidy had already been provided an indefinite preferential status. To answer the question they provide their substantiated vision and make a suggestion on how to handle the issue differently in practice.
De annotatie slaagt daarmee volgens de jury "met vlag en wimpel" voor de toets voor dé AB noot.