Two Leiden alumni make partner at Grant Thornton – at the same time
On 1 July 2021, Leiden Law alumni Linda van de Reep and Géraldine Grünberg-Otto were both named partners at auditing and consultancy firm Grant Thornton. 'We're connected through our background in Leiden, and we're proud of that.'
Linda van de Reep (1983) spent nine years working as a tax consultant at Grant Thornton before becoming one of the firm's youngest partners in July 2021. Géraldine Grünberg-Otto (1976) sees her appointment as partner as an opportunity to forge a new path with Grant Thornton's legal services department.
Whereas Van de Reep focuses on tax consultancy, specialising in innovation and shipping, Grünberg's main task is to expand Grant Thornton Legal Services and raise the profile of this independent service provider among medium-sized businesses, including larger companies in the Small and Medium Enterprises (SME) sector. Grünberg is based at the Arnhem and Amsterdam branches, while Van de Reep works primarily in Rotterdam. Grant Thornton has a total of eight branches in the Netherlands and more than 130 around the world.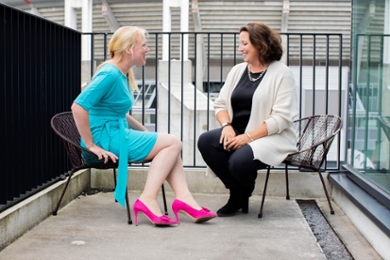 Connected by Leiden
The two women have kept in touch over the years – when Grünberg needs expertise in tax law she calls Van de Reep – and the fact that they are both Leiden alumni has only strengthened their connection. 'Wherever you go in the world, you get the same feeling when you meet someone who studied in Leiden,' says Grünberg, 'whatever they studied. It's great. We're proud of our background in Leiden, and it opens doors.' We met up with the new partners for lunch in Amsterdam to celebrate their promotion.
Hunger for knowledge
Even as a young girl Van de Reep was a curious child, and Leiden gave her the chance to satisfy her hunger for knowledge. She came to Leiden in 1994 to study Law, and she was among the first class to follow the bachelor-master's degree structure and to hear lectures in the newly renovated Kamerlingh Onnes Building. Van de Reep loved the fact that she could do what she wanted with her studies. She decided to do her bachelor's degree in Law with Business Studies. 'That interested me,' she recalls. 'The degree structure was 70% Law and 30% Business Studies, but I thought: why not do 100% Law and 30% Business Studies? That was OK, so that's what I did. I also got an Alliance Française certificate in Advanced French from the Language Centre.'
It was during her master's degree programme in Company Law that Van de Reep discovered how important tax law is to businesses: 'It gave me goosebumps.' She went on to complete a master's degree in Tax Law in Amsterdam, but she wasn't finished with learning, and alongside her paid work she continued to study for a post-master qualification in International and European Tax Law (Executive LLM) in Leiden.
The reputation of Leiden Law
However keen she might have been to learn, Van de Reep was no nerd who did nothing but study. 'I loved going clubbing with my friends too,' she remembers, 'and I had a part-time job and did work placements.' A lot of her friends also decided to study in Leiden. 'That helped us stay in touch. University is a special time, and that experience is interwoven with those friendships.'
Van de Reep chose Leiden because of the good reputation of the Faculty of Law and the wide range of programmes available in completely different fields, in case Law turned out not to be for her after all. In the end those other programmes were not needed, as Law is where her passion lies. 'The dynamic of tax law and all the changes in legislation make it a fascinating field,' she explains. 'As a tax consultant at Grant Thornton I find solutions that really help business owners.'
'Kind of in shock'
Géraldine Grünberg took a different path. Having skipped two years at school, in 1994 a fresh-faced 17-year-old Grünberg arrived in Leiden to start a foundation PhD in Dutch law. She was initially torn between universities in Maastricht and Leiden, but Leiden came out ahead in every category: 'The internationally renowned programme, the fun, the lovely city – not to mention the somewhat shorter travel time to my parents' house – all played a role in the decision.'
'I came from a small village at the far end of the province of South Holland, and in Leiden I was kind of in shock at how many opportunities there were on all fronts,' Grünberg remembers. 'In my first year I only managed to get 11 study credits, but I soon made up for that.' Once she found her feet she threw herself into all kinds of activities.
Voyage of discovery
'My time at university was a real voyage of discovery,' says Grünberg. 'I learned a lot about myself and about the world around me. I spent a year on the Faculty Board while it was chaired by Alex Brenninkmeijer, who is now better known as the Dutch National Ombudsman and a sitting member of the European Court of Auditors. In those days student membership of the council was a full-time paid position, and it was a real education.' She was also an active member of IfSo, became secretary of her student association and, last but not least, played first flute in Sempre Crescendo, Leiden's student choir and orchestra. As the music group was a sub-association of Minerva, she was a frequent and enthusiastic visitor to the student association building on Breestraat. From what she said – and didn't say – it sounds as if Grünberg's time in Leiden was a great and occasionally wild ride. Thanks to working as a barkeeper at Annie's, graduating in Civil Law and spending over a year studying in Ireland, many of her university friends have become friends for life.
The lure of foreign travel
Grünberg had little interest in the legal profession itself. Her time in Ireland strengthened her wanderlust and she went on to join the world of international business. She worked as general counsel for a large shipping company and in the private equity sector, spending time in a Family Office. 'Before I started at Grant Thornton, I'd worked for several different businesses as an independent commercial and strategic legal adviser.'
Finding happiness both in the office and outside it
The two women have a great rapport and are constantly laughing together, and they are quick to compliment each other: 'You're courageous and you've got balls,' Grünberg tells Van de Reep at one point; later, Van de Reep praises Grünberg for presenting the partners with 'an amazing plan.' They are clearly happy in their roles, and they are full of praise for the teamwork and the great atmosphere at Grant Thornton. 'Students feel the same way, according to evaluations,' says Grünberg.
Both women are, in their own words, 'happily married'. Van de Reep has a four-year-old son and gave birth to twins last year, and she is very satisfied with her workplace: 'Diversity and inclusion are priorities at Grant Thornton, so even as a mother you can still become a partner here.' Grünberg and her husband, a self-employed entrepreneur who studied Law in Utrecht, have a seven-year-old son together and two stepchildren from her husband's previous marriage. 'If our son decides he wants to go into law too, we'll probably each try to steer him in a different direction,' she says: 'my husband towards Utrecht, and me towards Leiden.'
'What's special to me,' says Grünberg, 'is that you noticed that we've both become partners. I left Leiden 25 years ago, and being invited to this interview after all this time... That means a lot.'
What does being a partner actually involve?The brand-new partners explain that there are as many different partners as legal offices. That said, it's always a promotion, and you have to be invited by the existing partners. For them, you have to meet two conditions to become a partner: you and your specialism must add something to the firm, and you are expected to contribute to discussions about matters affecting the firm, such as its core values and strategic direction; you need to show vision and entrepreneurial skills. Talking about the journey towards partnership, Van de Reep says, 'You have to be ambitious, and not afraid to show it.' Grünberg adds, 'Students often see it as the holy grail, and it definitely is a fine goal to aim for. You have more independence than before, it opens doors and you can be more of an entrepreneur.' That said, Van de Reep cautions, 'Of course there's still a lot of collaboration: teamwork is – fortunately – an indispensable feature of this kind of firm.'
Text: Corine Hendriks
Photos: Melissa Schriek