Back to Rabat
The airspace had almost closed last year as Leiden students and staff rushed to leave the Netherlands Institute Morocco (NIMAR). How is this Leiden institute in Rabat doing over a year later? 'Luckily we'd done a crisis exercise a few months before. Everyone managed leave the country in time.'
Back to those memorable first months of 2020. The new cohort of Leiden students is starting to settle into the Moroccan capital of Rabat. They're based at the bright white Nimar building, with its ranks of swaying palms and rooftop view of the Atlantic Ocean. The students are learning Arabian and attending lectures on Moroccan history and society. In the evening they return to their rented studios or to their host families in the city. They are beginning to settle in Rabat, but then the news about that mysterious virus gradually comes closer. Director Léon Buskens looks back at that turbulent time.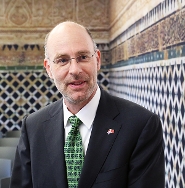 How did the pandemic begin for you at Nimar?
'In those first months we were still busy giving lectures and doing excursions, but the dark clouds gradually started to gather. The mood changed at the end of February. In Morocco, just like in Europe, covid was seen as an external threat. That meant that Europeans like Leiden students began to stand out. Some were even avoided all of a sudden or shouted at by Moroccans who were scared of getting coronavirus from foreigners. To begin with the students could decide for themselves if they wanted to stay in Rabat.'
Everyone has to be evacuated
'In mid-March it became clear that covid had become a global crisis. Then everything happened really fast. On 19 March in consultation with the Executive Board, the university security department and the faculty [Nimar belongs to the Faculty of Humanities] we decided to evacuate everyone from the institute. Some students were still staying with their host families and had to leave as quickly as possible. It was nerve-wracking because it was becoming more and more difficult to get a flight. Thanks to the help of the security department and the faculties everyone arrived safely in Europe. The students were collected by their parents at the airport in Paris because they couldn't fly to Amsterdam anymore. It went incredibly well, except that some of the students' luggage is still here because road transport still isn't possible.'
Did you leave with the students?
'At first I wanted to stay here because a captain is supposed to be the last to leave his ship. But on the advice of the embassy and at the insistence of the Executive Board, I left for the Netherlands a week later. Luckily I still have my house in Leiden. Only the local Moroccan staff remained in Rabat. Soon after we left a very strict lockdown with a tough curfew and very little freedom was announced. People were hardly allowed to leave their homes, and that lasted for months.'
'Thanks to our caretaker Rachid Chounounou the institute came through the lockdown unharmed. For months he took care of the building all by himself and of my home there, and he looked after all our cats. It was a difficult time for him. Everything was closed in Morocco and he wasn't allowed to leave Rabat, which meant he couldn't see his family in the countryside.'
How do you look back on the time?
'It was extremely hectic, but one thing helped us: by chance we'd done a crisis exercise a few months before. Leo Harskamp, the head of security at the university, provided intensive support in thinking about safety in Morocco and this exercise really helped us deal with the crisis. Clear communication is essential because the students' parents were obviously very worried. We were glad to hear them say how impressed they were with how things went.'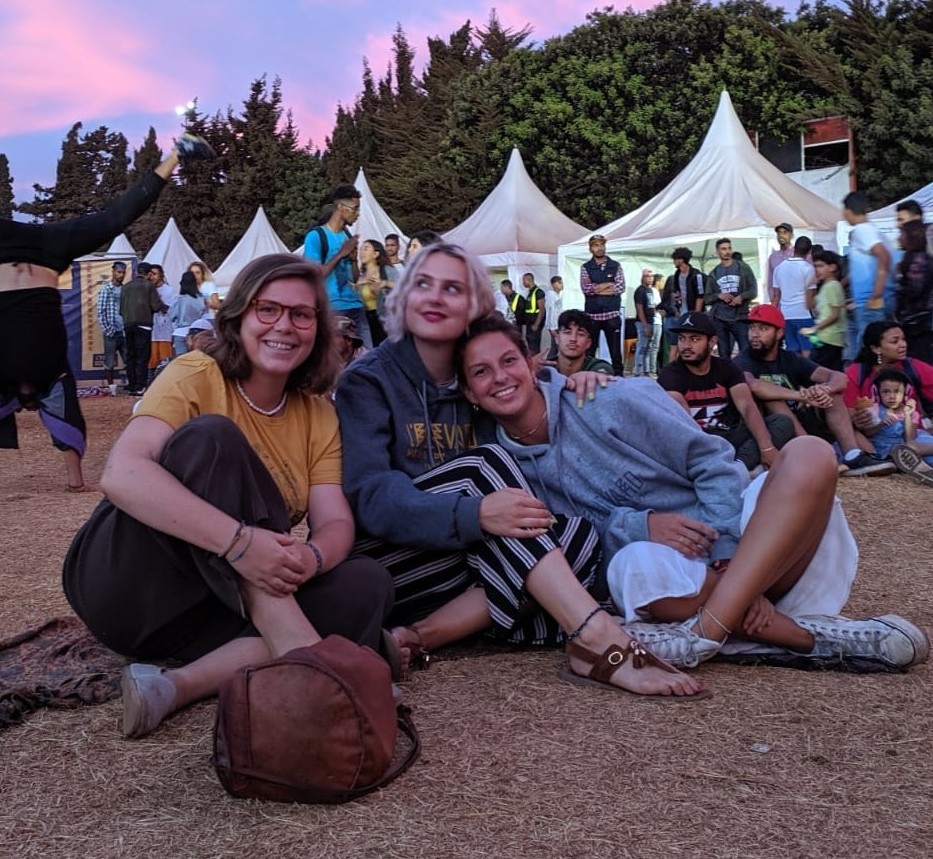 History student Zaza Jung (left in the photo) on her stay at Nimar:'Initially covid didn't seem to affect Morocco, but an end soon came to this carefree mood when, on 14 March, the Moroccan government suddenly closed the borders to new foreigners, and it became difficult for us to leave the country. As covid had been brought to Morocco by European tourists, many Moroccans associated the virus with Europe. That weekend people on the street suddenly shouted 'corona!' at us. That was very alienating, although it was much milder than the aggression that many Asians faced in the west. After various cancelled flights, we finally got on a French repatriation flight to Paris. Although this was a relief, it was a real shame to have to leave Morocco at breakneck speed when we had only been there for a month and a half. Luckily the teaching continued online and I managed to learn both Moroccan and Standard Arabic. I definitely want to return to Morocco once it's possible again.' Photo: Zaza with friends at a festival in Casablanca before the outbreak of the pandemic.
How badly has Morocco been affected by covid?
'There have been a lot of infections, but Morocco was spared from a situation as bad as other Mediterranean countries such as Spain. That was because of the very strict measures and the relatively young population, which means the people here weren't as ill. Now Morocco is pressing ahead with vaccinating. Much of the population has already been vaccinated. Groups such as teachers and police officers were vaccinated fairly early on. I've now had the Janssen vaccine via the embassy.'
How did Nimar resume its teaching?
'After the evacuation we were soon able to teach our lectures online. Our colleagues and the Moroccan guest lecturers gave lectures at Nimar that the students at home in the Netherlands could follow via a video connection. It wasn't ideal, but it's been going well. Instead of excursions we've been giving virtual tours and showing films, and have been organising digital meetings with Moroccan speakers like artists and activists. But they obviously wanted to get to know Morocco better by living in the country itself.'
Where are you now: Leiden or Rabat?
'Back in Rabat, I'm pleased to say. Alongside director of Nimar I'm education attaché for the Dutch embassy in Morocco and for this work it was important for me to return. I wanted to anyway. My first attempt in March this year failed at the airport in Paris. They wouldn't let me fly any further. The second attempt, on 17 March, was successful, but there has only been a very limited number of flights since.'
Could the students get to know the Moroccan community in the Netherlands?
'They've been doing that to some extent, but it's different of course. The benefit of living in Morocco is living in another country. You learn so much by stepping outside your comfort zone. How you can manage to find your way around another society in another language. How you can make friends despite all the language barriers, but also how it is to feel like an outsider at times.'
Who is Nimar for?
Nimar is part of Leiden University but serves the whole country: students van all Dutch universities and universities of applied sciences in the Netherlands are welcome. The institute provides teaching, facilitates research and manages and develops the library collections with works on Morocco and the Arab world.
What are the prospects for the next academic year? Can students apply to go to Rabat, and is research possible?
'Public life here is beginning to return to some kind of normal. Some of the lectures at the universities are in person again. We're optimistic and hope to welcome students again in the first semester. There's a lot of interest from Leiden students. We're therefore hoping for the best but must obviously follow the university's rules, and these in turn are decided by the Ministry of Education, Culture and Science. We hope that Dutch researchers will be able to do research here again too. How does Moroccan centralism relate to individual freedom? How has this been during the pandemic? This question is a good one to debate with students. You learn a lot from comparing countries. That's what Nimar is for. This institute is a window on the world.'
Text: Linda van Putten