'Morocco Institute crucial for better understanding of Arab world'
A better understanding of Morocco and the Arab world is crucial for international relations and for Dutch society. This was the key message of Minister of Education, Culture and Science Jet Bussemaker and Ahmed Aboutaleb, Mayor of Rotterdam, at the opening of the renewed Netherlands Institute in Morocco (NIMAR) on 1 March in Rabat.
Centre of expertise
The institute itself is very much 'Leiden', but the decor is different. The new premises of NIMAR are located in an avenue of palm trees with a view of the Atlantic Ocean in the distance. Bussemaker opened the new, more spacious building before an audience of Dutch students and researchers and Moroccan guests. With the new, larger premises, more Dutch students will be able to study in Rabat. Besides teaching, the Institute, that has been part of Leiden University since 2016, also conducts research and is a centre of expertise for Dutch society.
Bringing the Netherlands and Morocco closer together
Bussemaker stressed the importance of NIMAR in the present turbulent times. 'NIMAR can bring the worlds of the Netherlands and Morocco closer together by sharing knowledge about Morocco, the Arab world and Islam. Studying these topics in their own context is crucial if we want to really understand one another.' The Moroccan Minister of Culture, Amine Sbihi, was of the same opinion. He expressed his appreciation of the serious attention that is being paid to his country.
Discussing issues generates more insights
During the opening, Rector Magnificus Carel Stolker, Bussemaker and Aboutaleb, who is chairman of NIMAR's Advisory Council, talked with students who are currently following the Rabat semester of the Arabic programme. Studying here gives you a lot more insight than simply reading books, several students commented. Justin, a student of political sciences, is researching the recent accession of Morocco to the African Union. In Rabat he has the opportunity to survey what everyday Moroccans and officials think about this.
Less conservative than expected
People in the Netherlands often have a negative image of Moroccans, commented Mohamed Ahmed, a student of Oriental Languages and Communication at the Zuyd University of Applied Sciences in Maastricht. His stay in Rabat has helped Ahmed, who also has Sudanese roots, understand that Morocco is more diverse and less conservative than he had thought. Moderate Islam is the dominant religion and you can see that in the city's streets: many of the women are dressed in modern clothes and are not wearing a headscarf.
Knowledge helps create tolerance
Aboutaleb remarked: 'There are a million Muslims in the Netherlands. Studying here helps you understand not only the Arab world better, but also Dutch society.' Bussemaker's message was similar: 'Knowledge helps create tolerance. Students are the bearers of our values into the future.'
Hub for the Arab world
The new location in the centre of Rabat, with its two lecture rooms a library and computer facilties, is an excellent base, NIMAR director Leon Buskens agreed. Buskens is Professor of Law and Culture in Islamic Societies at Leiden University and is also educational attaché in Morocco. 'A minor in Rabat gives you an exceptional opportunity to form your own opinion about the Arab world. Morocco is very diverse: it is Mediterranean, Arabic and also African.' Interest in the country has increased since it became a member of the African Union and also on account of the country's future plans in and with the rest of Africa.
Centuries-old relationship
Stolker referred in his speech to the centuries-old relationshipbetween the Netherlands and Morocco, and the role of Leiden University. In 1610, the Republic of the Netherlands was the first European country to sign a treaty with Morocco, and 400 years later Leiden was the first university in Europe to establish a chair in Arabic. Jacob Golius, Professor of Arabic and Maths in Leiden, advised the Sultan of Morocco on the construction of defence works against the Spanish, the two countries' common enemy. Golius collected manuscripts and worked with Moroccan scholars, giving a new impetus to research on Arab language and culture, Stolker explained. 'Thanks to the longstanding relationship between our two countries, Leiden University has been able to build up considerable knowledge about the languages and cultures of Morocco, which is a great benefit to society. We conduct research across many different domains, from Berber and Arabic, through history and Islam, to anthropology and law.'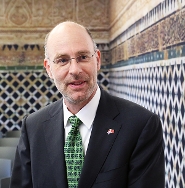 New start
A subsidy of 2.5 million euros from the Ministry of Education, Culture and Science and the Ministry of Foreign Affairs, made it possible for NIMAR that was managed by Radboud University from 2006 to 2015 to make a new start. The Institute is now part of the Leiden Faculty of Humanities, but, as all the speakers stressed, it is open to all students at Dutch academic or applied sciences universities.
Agreement with the Université Mohammed V
While in Rabat, Stolker and Aboutaleb also met Moroccan students and researchers at the Université Mohammed V, a close partner of Leiden University for more than thirty years. On 2 March Stolker signed an agreement with this university to strengthen the collaboration across different domains, including Museum Studies and African Studies.


Exhibition on Morocco through Dutch eyes
The Moroccan university will be hosting the exhibition 'Morocco through Dutch eyes' that focuses on the centuries-old relationship between the two countries. The exhibition, was opened in Rabat on 2 March by its creator, Herman Obdeijn, Leiden historian and former educational attaché in Rabat.
Lessons from Moroccan lecturers
NIMAR currently offers two minors: besides Arabic, there is also the English-language minor 'Culture and Society in Morocco'. The lectures are mainly given by scientists and guest lecturers from Morocco, including journalists and artists. The students also conduct fieldwork in an oasis to the south of Morocco.
Research
In academic terms, the Institute aims to promote collaboration, not only between the two countries, but also worldwide, among different researchers. NIMAR is already intensifying the existing relationships and stimulating new projects. In 2018, for example, a conference will take place on the comparison between Islam and society in Morocco and in Indonesia, and researchers from both countries come together at NIMAR.
Responsibility towards society
Besides facilitating teaching and research, NIMAR also has a responsibility towards society. The Institute organises study trips aimed at allowing diverse groups of people to get to know Morocco and the different forms of Islam that exist side by side in an atmosphere of mutual respect. There are tailor-made programmes for professionals from societal organisations and participants with diverse religious and secular backgrounds.
Joint chairmanship of the Global Forum for Counterterrorism
The Netherlands and Morocco hold joint chairmanship of the Global Forum for Counterterrorism (CCTF). In this context, NIMAR will be organising meetings on terrorism and counterterrorism in collaboration with institutions in the Netherlands and Morocco.
Peace, security and sustainability
During the visit, Bussemaker also talked with other senior staff at Leiden University, including Professor Wim van den Doel (until 1 March Dean of Humanities) and Chief Librarian Kurt de Belder. They talked about the international cultural policies of the Netherlands and Morocco, where the key focus will be on projects in the cultural and creative sector that contribute to peace, security and sustainability. The projects will be carried out in collaboration with Dutch professionals and institutions from the cultural and creative sector.
Library collection
In the coming years, NIMAR will add to Leiden University's library collection on Morocco, North-West Africa and Islam. NIMAR director Buskens: 'We want to make the cultural and scientific products on Morocco accessible. A large proportion of the scientific publications are difficult to access and have not yet been digitised. We're also going to extend our collection of magazines, newspapers, music and films.' The work will be carried out in cooperation with the library of the Africa Studies Centre Leiden, which has been part of Leiden University since January 2016.
The University library already holds a rich collection of Arabic and Berber manuscripts. Research in Leiden is often further broken down into specific subjects. Leiden University is the only Dutch university with a chair in Berber Studies, for example.