Leiden University signs agreement with Tsinghua to co-foster PhDs in astronomy
On 26 October, Leiden University held its first online signing ceremony, signing an agreement with China's top university Tsinghua to establish a joint PhD programme to co-foster young researchers in the fields of astronomy and astrophysics.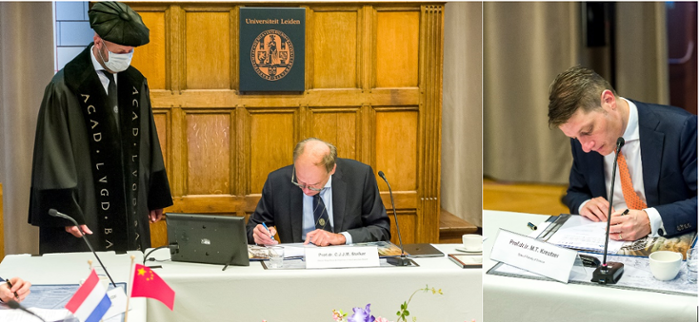 Fostering talents together
In the agreement, both parties commit to setting up a structured programme between Leiden and Tsinghua to co-supervise PhD candidates coming from both sides, engaging in frontier research in astronomy and astrophysics. Leiden Rector Magnificus Carel Stolker pointed out that Tsinghua is a very important strategical partner for Leiden University. It is his believe that this programme is one of the best ways to foster international-oriented innovative talents, and that it will ensure long-term collaborations for researchers from both sides.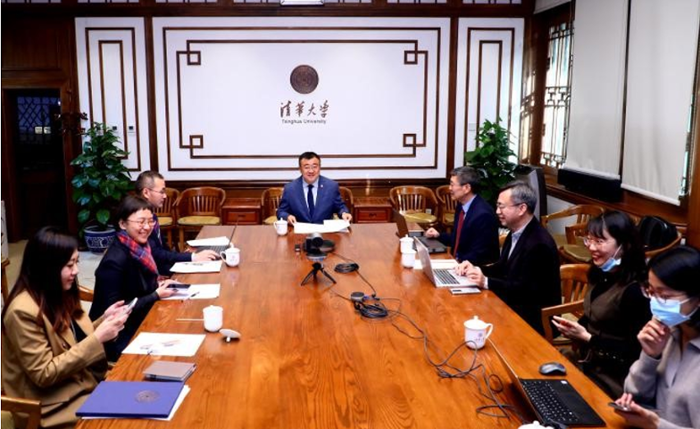 A valued partnership
Tsinghua Vice President and Provost Yang Bin added that Tsinghua greatly values the partnership with Leiden. This programme is the first joint PhD programme with a Dutch university for Tsinghua, and the University looks forward to continuing to deepen the collaboration with Leiden University.
Michiel Kreutzer, Dean of the Faculty of Science, said he is looking forward to the future development of the joint PhD programme in astronomy between the two universities. He discussed in depth the possibility of expanding joint scientific research, talent training and personnel exchange programmes in various disciplines between Tsinghua and Leiden. He also emphasized the attention he gives to Chinese talents coming to Leiden, offering them extra guidance in the form of, for example, a career workshop.
Many active collaborations
At the end of the signing ceremony, Luo Ping, Counselor of the Education Office of the Chinese Embassy in the Netherlands, remarked that he was honoured to have witnessed the cooperation signing between Tsinghua University and Leiden University. The two universities are highly influential and well-known universities in China and the Netherlands, Luo Ping said. 'The joint doctoral training programme between the two parties sets a good example for cooperation of education and research.'
In 2017, Leiden University signed a memorandum of understanding with Tsinghua University, agreeing on promoting collaborations for education and research. Since then, active collaborations have been established not only in astronomy, but also in the fields of law, life science, environmental science and mathematics.
Number one university in China
Tsinghua University is one of the most prestigious universities in the world. It is ranked as the number one university in China, Asia and emerging countries by the Times Higher Education World University Rankings, with its research performance placed at a 7th place globally (between Stanford University and the Massachusetts Institute of Technology). Since its establishment in 1911, it has produced Chinese top talents in science, engineering, politics, business, academia and culture.
Members of the Leiden delegation:
• Prof. dr. C.J.J.M. Stolker, Rector Magnificus and Chairman of the board of Leiden University
• Prof.dr.ir. M.T. Kreutzer, Dean of the Faculty of Science
• Prof. dr. H.J.A. Rottgering, Scientific Director of the Leiden Observatory
• Prof. dr. K.H. Kuijken, Professor of Galactic astronomy
• Mrs. Annemarie Montulet, policy advisor
• Mrs. Yun Tian, policy advisor
Members of the Tsinghua delegation:
• Prof. Yang Bin, Vice President and Provost
• Prof. Mao Shude, Director of Department of Astrophysics
• Prof. Li Jinliang, Dean for International Affairs
• Wang Hui, Associate Dean of the Office of International Affairs
• Prof. Cui Wei, coordinator Leiden-Tsinghua Exchange Programme
• Prof. Xiao Xi, Associate Dean of Tsinghua Graduate School
• Liu Lixia, Deputy Director of the office of graduate studies
Also present at the meeting in Leiden:
• Mr. Luo Ping, education counsellor from the Chinese Embassy to the Netherlands