Helen Pluut new chair of Young Academy Leiden
Young Academy Leiden brings together young researchers, gives them a say in policymaking and fosters interdisciplinary collaboration. Chair Tom Louwerse is passing on the baton to Helen Pluut. 'Sharing your knowledge and experience with colleagues from other faculties and institutes is so valuable.' A double interview.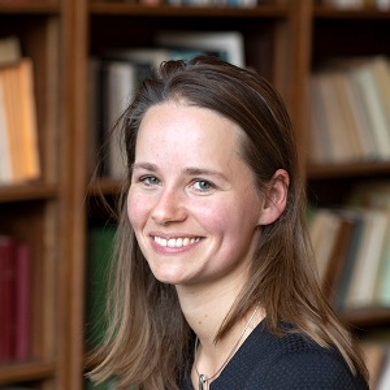 Helen, what are your priorities this coming year as chair of Young Academy Leiden (YAL)?
Helen Pluut: 'One important point is that we want to be more practically involved in policy that affects young researchers. An example of this is our position paper on the impact of the corona crisis on our rank and file. A survey that we held showed that young researchers have been particularly affected by this crisis. We went on to discuss our recommendations with the Executive Board and the deans, but we're also calling at a national level for more attention to be paid to the consequences for this group. This is how we make sure that the voices of young academics are heard.'
Tom Louwerse: 'It's good to see that administrators at the University want to consult us too and are open to our suggestions. They're pleased to have a point of contact, a group that can help develop policy or tell them about young researchers' concerns. We're critical, but always try to do this constructively, and we also suggest possible solutions. And then obviously we bring together young researchers, regardless their discipline. We therefore hope to help young academics feel at home at the University, so they really will feel as though they are part of the University community.'
Which activities can we expect from YAL this year ?
TL: 'We're definitely going to continue with the lunch meetings for young researchers – although everything depends a bit on the government measures. We've held a number of them online already and they've proven popular nonetheless. In these times of corona, there's a need for digital meetings like these. We've had lots of positive reactions: people like to meet and share experiences with their colleagues from other institutes and faculties. You often discover that someone from a completely different discipline has come up against the same problems as you because they're in the same phase of their research. It's good to pick each other's brains or share knowledge. And for us as YAL these are valuable meetings because we hear what issues young academics are facing.'
HP: 'We've got six new members this year, which gives us the opportunity to do more. We've always had plenty of plans, but time constraints mean we don't get around to doing everything, so it's good to have more members now. I myself am really enthusiastic about the blog that we've launched, VoicesofYoungAcademics.nl. It's a blog for and by young academics. Anyone can submit a piece or respond to the experiences or stories of others. And we're going to give an interdisciplinary honours class on sustainability. We're on the syllabus and are now waiting for enthusiastic students! What people can definitely also expect are activities where we bring people from different faculties together around interdisciplinary themes.'
Tom, you were the first YAL chair. How has it been?
TL: 'It's great fun to set something like this up, but daunting too because you don't yet know where it will lead. We started one-and-a-half years ago with a group of 13 people who had been brought together by the Leiden members of The Young Academy (part of the Royal Netherlands Academy of Arts and Sciences (KNAW) Ed.). At the beginning there was a rough idea of what Young Academy Leiden should be, but we had to work out the details. What do we stand for? What's our vision and what are we going to do with it? It was a real challenge.'
HP: 'We soon decided that we wanted to play an active role for all the young researchers at Leiden University. So we came up with three "pillars" that our activities would focus on: interdisciplinarity, teaching and research policy, and outreach. We really did take the time to define our mission, so that we have a clear goal when organising activities, raising problems or writing policy.'
Isn't it a shame to hand over the baton now YAL really is up and running?
TL: 'No, we'd agreed beforehand that it would be a good idea if the chair's term didn't last for too long. Helen was vice-chair from the start and is now taking over as chair. There's a new vice-chair, Annemarie Samuels, and she'll take over from Helen in a year's time. You therefore ensure continuity – the chair and vice-chair work together a lot – but at the same time have "fresh blood" each year, which generates new ideas. And I'll obviously still be a member of YAL. Without my duties as chair I'll be able to focus more on the nitty-gritty, something that I also enjoy.'
What would you have to say to Helen as brand-new chair?
TL: 'Well, if you ask me, I don't need to offer any lofty words because I know Helen as a person who knows exactly what she wants and how to get others to buy in to this. She's already demonstrated that as vice-chair. We've worked together a lot, so I know for sure that Helen knows what she wants and is able to do. We've always said that both the chair and vice-chair have a facilitating role for the members, and Helen will want to give others space for their own ideas too.'
HP: 'What lovely words! I've found it very inspiring to have spent the past one-and-a-half years working with Tom and seeing how he gave shape to the role of chair. I think that we knew each other's strengths and could make good use of them. That's typical of YAL: we encourage and support one another in what we do. We're a positive, constructive club, which is something I want to continue.'
Text: Marieke Epping
Photo above: Group photo of Young Academy Leiden at its inception in 2019.
Young Academy Leiden: shaping the future of academia
Young Academy Leiden (YAL) is a select group of young academics from Leiden University. Established at the start of 2019, YAL is a platform that brings together young, enthusiastic and driven early careers academics (post-PhD). YAL currently has 18 members. They represent a variety of academic disciplines and come from all the faculties at the University. For more information on YAL's mission, projects and activities, see its website.