'Working together on the basis of mutual respect is enriching and satisfying'
Since 2017 guest researcher Gerrit de Wit has been working together with Congolese linguists and the Boa community to develop the oral Boa language into a written one. He tells us about 2 unique projects, which are steadily unearthing and describing the structure of a new language.
As a guest researcher, De Wit combines his linguistics work with project management in the IT sector. He is especially interested in the Bantu languages of the Democratic Republic of Congo (DRC). 'I studied General Linguistics at Leiden University and spent 3 years with my wife in the DRC conducting linguistic surveys. Involvement with a project of language development resulted in a PhD in 2015 in which I described Liko, a Bantu language spoken by about 70.000 people in north-eastern DRC.'
Describing the main dialects of the Boa language
Back in 2017 De Wit was contacted by non-profit organisation CITBA in the DRC, to ask if he was interested in collaborating on a project analysing and describing the Boa language. Boa is a Bantu language which is spoken in the DRC and has roughly 200.000 speakers. As De Wit explains, 'to me this seemed like an opportunity to assist another language community in the DRC, to build experience working with a Congolese team as well as to engage in further research of Bantu languages.'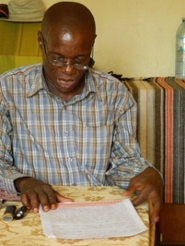 Yewu and Leboale
Thanks to funding from various smaller sponsors through the Leiden University Fund, the first 2-year project started in 2018. De Wit formed the Boa team together with Congolese linguist Dominique Banotanea Bapokanza and several well-educated volunteers from the Boa community. 'The Boa language has different dialects but the Boa community asked us to focus on the Yewu dialect during this first project,' says De Wit. At the end of the project, the Boa team produced a provisional alphabet of the Yewu dialect, a lexicon of about 1800 items (with translations in French and English), recordings of 20 oral texts, 3 literacy booklets with in total 15 edited texts and the first version of an orthography guide (spelling system) for Boa speakers who are interested in learning to write using their own language.
The current 2-year project (2020 – 2021), with renewed support of the Leiden University Fund and the Leiden University Centre for Linguistics, once again finds its roots in the Boa community. A few new members have been added to the ever-dedicated Boa team and the focus is now on detecting the differences between the Yewu dialect and the Leboale dialect, another main dialect of the Boa language. 'Obviously, we don't want the Leboale speakers to feel neglected by the initial focus on the Yewu dialect,' explains De Wit. 'This project will shed light on whether, from a linguistic perspective, the provisional orthography developed for Boa-Yewu will be adequate for Boa-Leboale.'
Boa cultural heritage
According to De Wit, the impact and significance of these projects can be seen on many levels. 'Having an alphabet, an orthography manual and a lexicon Boa-French as well as Boa-English, will enable the Boa community to start producing material for educational purposes, in schools and for use in churches. This enriches the Boa cultural heritage.' He goes on, 'from a linguistics point of view, the availability of a corpus of Boa language data and recorded texts is of course of high theoretical interest to researchers of Bantu languages in general.'
De Wit's enthusiasm for the project is unbounded: 'What fascinates me about both these projects is to see how so many people in Congo value their language and how eager the Boa team is to make this project a success. Although COVID-19 has prevented me to travel to Africa to meet with Dominique and the team this year, we are continuing to bond as a team, be it remotely.'
Special thanks to Advisors Maarten Mous (Leiden University Centre for Linguistics) and André Motingea Mangulu (Université Protestante au Congo) as well as to the other Boa team members: Banale Aleumba Sebastien, Etinde Embatia Julienne, Tazanaba Kadite Dieudonné, Alipanazanga Masanga Patrick, Dembiya Jean and Gaza Yobo.