Faculty opening of a special academic year: 'Take care of each other'
A special beginning of this unique faculty year 2020 - 2021: on Wednesday 2 September, the opening of the faculty year took place online from the renovated Arsenaal building. The opening started with a round table with nine special guests and was followed by a quiz and the presenting of the Faculty Education Prize.
A special year
'It will be another special year. It is important for all of us to be careful this year in order to keep the virus under control. We have to do that together'. With those words, Dean Mark Rutgers opened the round table for a handful of people present in the Arsenal and almost 500 online viewers. He emphasizes that the University prefers to offer education physically, but as long as it is necessary, it will still be online. Assessor Jonatan Wirix-Speetjens advises students: 'We worked very hard to offer on campus education for most students and we are happy that we succeeded, do make use of it.'
'Humanities are more important than ever'
'It is also good to reflect on how important our faculty is, at the beginning of this academic year,' says Mark Rutgers. 'The importance of the humanities is bigger than ever in times of crisis.' Round table guest Ineke Sluiter, Professor of Greek Language and Literature and president of the KNAW, states that at the beginning of the crisis it was logical to seek knowledge from medical specialists, but the humanities are also very important. 'We give tools on how to talk and communicate about a crisis', says the classicist.
Challenges and opportunities
There are still plenty of challenges for the coming year. Sluiter mentions that we now have copied our physical behaviour to the online, the next step is to achieve the same goal but in a different way. 'We need to learn how to use digital platforms in the right way,' adds University Lecturer Lauren Fonteyn. But students who are about to graduate are also facing a big challenge, says Sarita Koendjbihari, University Lecturer in International Studies: 'We have a lot of empathy for students who are about to graduate because it is a difficult period in which it may not be possible to find your dream job.' Koendjbihari aids students who are about to graduate by helping them to present themselves as well as connecting graduate students.
In addition to the previously mentioned speakers, Nadine Akkerman, Karwan Fatah-Black and Crystal Ennis also participated in the round table discussion. Ferdinand Harmsen and Olivier Fajgenblat contributed to the discussion through a pre-recorded video message.
Humanities quiz
After the round table discussion, the Humanities Quiz started, in which online participants could participate via their smartphones. With ten questions, from 'Who won the first FGW impact prize this year?' to 'How much does a normal coffee from the vending machine cost?', the quiz participants cracked their brains. The highest score was obtained by Nathal, who had no less than nine of the ten questions right and won a Leiden University prize package.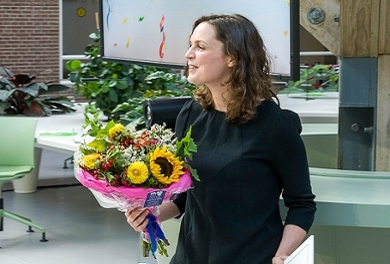 Lotte Fikkers wins Faculty Education Prize
Every year during the faculty opening of the academic year, the Faculty Education Prize is awarded to a teacher who excels in education. This year's nominees were Laura Bertens, Sai Englert, Lotte Fikkers and Ae Ree Nam. They were put in the limelight by their students who told them through a video message why their teacher deserved the nomination. After their reactions, the assessor announced the winner with words of praise: Lotte Fikkers went home with the Faculty Education Prize 2020.
'We can make it a good year together'
'Let's make it a good year together, even though it is going to be a difficult year,' says Mark Rutgers as he closes the online opening. Take responsibility, emphasizes assessor Wirix-Speetjens: 'We have to look out for each other, take care of each other and then we can continue to do this together in these ways, all year round.' After the toast of the dean, the opening was completed with the screening of the film Humans of Humanities, which premiered the before the start of the corona crisis.
Photography: Pim Rusch