Faculty of Science starts new year with awards for talents
Mathematician Robbin Bastiaansen, physicist Irene Battisti, pharmacist Fouzia Lghoul-Oulad Saïd and physics and astronomy student Maite Boden are the winners of the annual prizes of the Faculty of Science. Boden was honoured as the first Young Star, a new prize for the best bachelor's student of the Faculty.
The winners received the awards at the New Year's Reception on 7 January. New Dean Michiel Kreutzer kicked off this meeting in lecture room C1. He told staff, students, and alumni why he has left Delft University of Technology for Leiden University.
Connected, but true to ourselves
A personal story, starting six months ago when Kreutzer decides to apply as a dean in Leiden. He is the Head of the Department of Chemical Engineering and Director of Education at the Faculty of Applied Sciences in Delft. His decision to apply is the right one, he notices while reading up about the Faculty and conversations with old and new colleagues. The Faculty of Sciences has a strong public image, it appears every time. 'We know where we come from, we know where we stand, we know where we want to go.' But public relations run in both directions, says Kreutzer. 'We are widely heard, but listening is tough.' So Leiden University was again looking for a dean who can connect parties, and connecting is what Kreutzer has done in his previous positions. 'Eight institutes with very different disciplines do not scare me – they excite me.' His intention for the coming period is therefore clear. 'We will connect, and we'll come out connected. But true to ourselves. As this Faculty has always been.'
Mathematics against desertification
Rector Magnificus Carel Stolker then presented the C.J. Kok awards on behalf of the Executive Board of Leiden University. First was the C.J. Kok Jury Award for the best dissertation from 2019. This year it went to Robbin Bastiaansen of the Mathematical Institute. In his thesis 'Lines in the sand' he describes mathematical models he developed for the remarkable patterns that vegetation in the desert can assume. Together with ecologists, he makes the process of desertification more transparent. These insights can hopefully contribute to fighting desertification in the future.
Read more about Bastiaansen's research:
The most stable microscope in the world
The second C.J. Kok Award handed out by Stolker was the public award. Via an online vote, people were able to vote for eight nominated candidates, one being a team of two researchers. No less than 2670 colleagues, students, alumni and external parties cast their votes. Irene Battisti eventually came out as the winner. The final results were corrected for the size of each institute.
Physicist Battisti obtained her PhD in 2019 on an ultra-advanced microscope she developed. This so-called scanning tunnelling microscope scans the surface of a material with an atomically sharp needle and then produces an image via an electric current. The microscope must be extremely stable for this, a task that Battisti completed together with the Fine Mechanical Department. She's still very enthusiastic about the resulting images: 'We continue to be surprised at how beautifully clean the data is.'
Read more about Battisti's breakthrough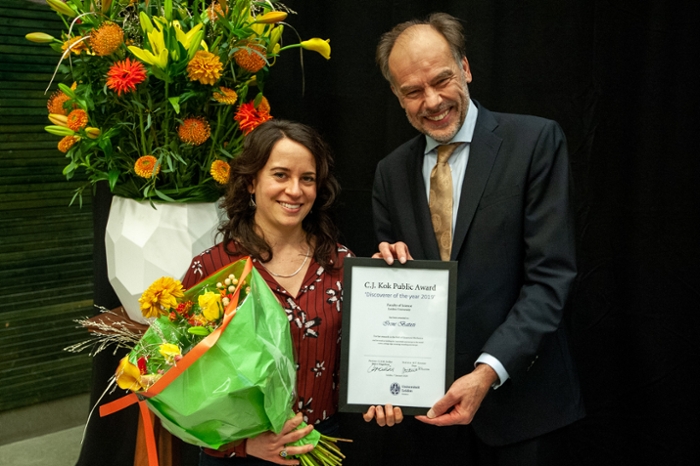 'No two students are the same'
Assessor Bas Schaalje then revealed the name of the best teacher in 2019. The jury, consisting of the assessors of education of the study associations, chose Fouzia Lghoul-Oulad Saïd from the Leiden Academic Center for Drug Research. Her passion for teaching also appears outside the courses, according to the students who nominated her. 'She was always willing to answer questions, even questions that were not directly related to the course. For example, she has advised many of us on various career opportunities in the field of pharmacy.' Fouzia Lghoul-Oulad Saïd herself confirmed her love for teaching. 'Students are so diverse, and any prejudice you might have quickly vanished, since no two students are the same. I love getting to know them on a personal level, even if it is only for a brief moment.'
Read more about Fouzia Lghoul-Oulad Saïd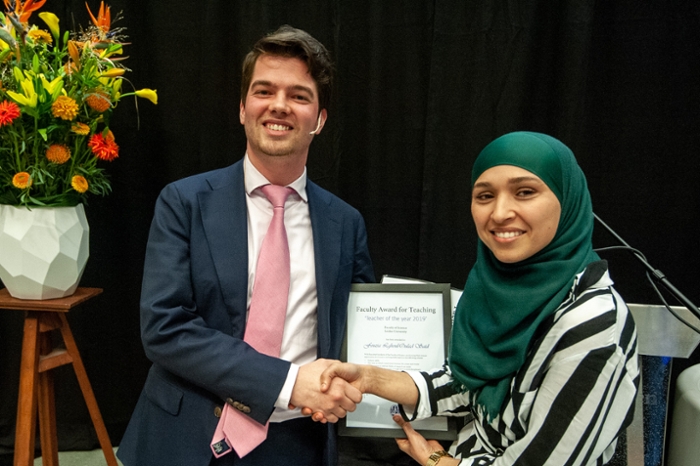 Measuring a ghost particle
The fourth award was handed out by Professor of Molecular Astrophysics Ewine van Dishoeck. A year ago, she announced the Young Star Award, using some of the money from the Kavli Prize she received in 2018. Maite Boden obtained bachelor's degrees in physics and astronomy in 2019 and, according to the jury, was the best student of that year. Boden participated in the calibration of a neutrino telescope in the Mediterranean. In her bachelor's thesis, Boden demonstrated that the required accuracy can be achieved by using a background signal. She thus made a significant contribution to a precise and very complex measurement setup, which should generate more knowledge about the notorious ghost particle the neutrino.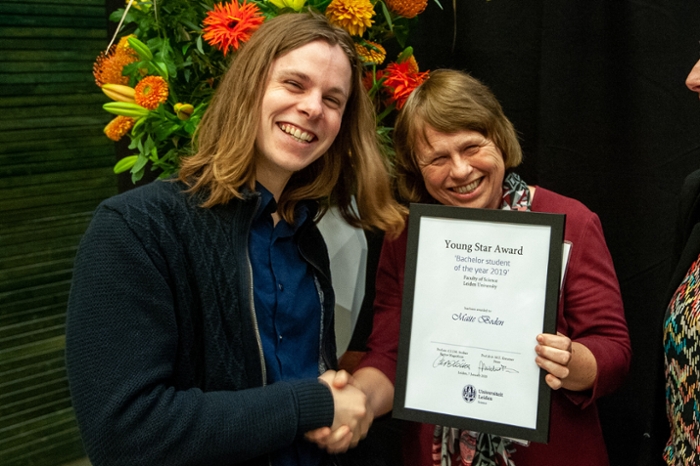 Images: Pim Rusch