Aart Hendriks holds lecture in Madrid on euthanasia
Aart Hendriks, Professor of Health Law at Leiden University, held a lecture on euthanasia on Wednesday 11 December 2019. He was invited by the Madrid section of the Spanish Medical Colleges Organization.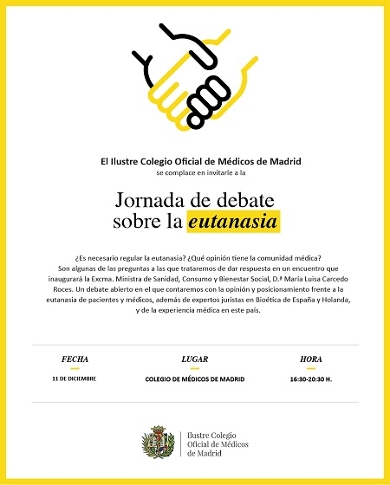 The Madrid organization representing medical practitioners, Ilustre Colegio Oficial de Médicos de Madrid, together with the sections of this organisation in the Basque Country, Catalonia and the Canary Islands had distributed a survey among Spanish doctors to find out their views on euthanasia. More than 80% of respondents believe that euthanasia should be legalized through legislation. However, around 30% of respondents would not want to participate themselves in performing euthanasia. Not entirely coincidentally, the Spanish socialist party (PSOE) has submitted a legislative proposal to legalize euthanasia in certain cases. This proposal would be broadly supported in Spanish society.
It became clear during the debate that many doctors believe that the legalization of euthanasia is a matter of some urgency. Opponents also made their opinions clear, arguing that doctors are not trained to kill patients, and that euthanasia goes against medical ethics.
Aart Hendriks gave a summary of the situation in the Netherlands, Belgium and Switzerland. Leiden GP Adriaan Goslinga spoke about a case of euthanasia in his own practice. His words were met with complete silence in the lecture room, and received a rapturous applause in response.