Jorrit Rijpma intervenes at the Van Wittel/Vanvitelli Dialogue
On 28 and 29 October, the first Van Wittel/ Vanvitelli dialogue took place at the Clingendael Institute in The Hague. The Van Wittel/Vanvitelli Dialogue is a high-level roundtable on Italian-Dutch relations, organised by the Clingendael Institute and the Institute for International Affairs in Rome, in close cooperation with the Dutch and Italian ministries of Foreign Affairs.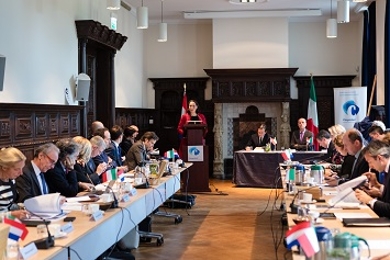 It brought together a small group of senior policymakers and thinkers from Italy and the Netherlands for two days of high-level discussions around the theme "How can Italy and the Netherlands move Europe forward?".
The roundtable discussion was opened with keynote remarks by Vincenzo Amendola, Italy's Minister of European Affairs, and Stef Blok, Minister of Foreign Affairs of the Netherlands. Jorrit Rijpma intervened in the panel on migration, together with Joost Klarenbeek, Special Envoy for Migration from the Dutch Ministry of Foreign Affairs, Daan Huisinga, Deputy Director-General Migration of the Dutch Ministry of Justice & Security, Andrea Vitolo, counsellor at the Office of the Diplomatic Advisor of the Italian President and Chiara Favilli, Associate Professor of Law at the University of Florence. During the panel they explored avenues for cooperation in this important and often much politicized policy field.