Coming soon: new sports and examination centre
A sustainable building that is both sports and examination centre. In September, a design team including architect Atelier PRO will begin to develop the plans for the new University Sports Centre (USC). Construction will begin in 2021, and the building is expected to be completed before September 2022. The new building will be next to the present USC, with its entrance on the new Campus Square.
After an extensive selection procedure, an architect – Atelier Pro – and various advisers have been chosen for the development of the new sports and examination centre. Before the project is put out to European tender, the Real Estate service unit and the University Sports Centre will draw up a programme of requirements for the new building.
The new sports centre will be a sustainable building that can also be used as an examination centre. There will be a climbing wall and other new sports facilities such as squash courts, and there will be a sauna. The new sports and examination centre will be situated in the entrance area on the southern side of the Leiden Bio Science Park. Its entrance will be on the future Campus Square. The new centre will be next to the present USC – that building will be demolished in the future to make room for housing.
Sustainable and circular building
An important aim is that the new building will be sustainable. It has therefore been decided that the entire building – from design to construction – will have to meet the BREEAM-NL Excellent standard. This involves various categories such as energy, health and waste.
The new sports centre will be built according to circular principles. Circular building principles can be compared with building with LEGO: from the very beginning, one considers how the building can be deconstructed at the end of its lifecycle so that the components can be reused or returned to nature. This means that when the building comes to be demolished in future, nothing will end up in landfill. Copper8, an expert in circular construction, is involved in the project.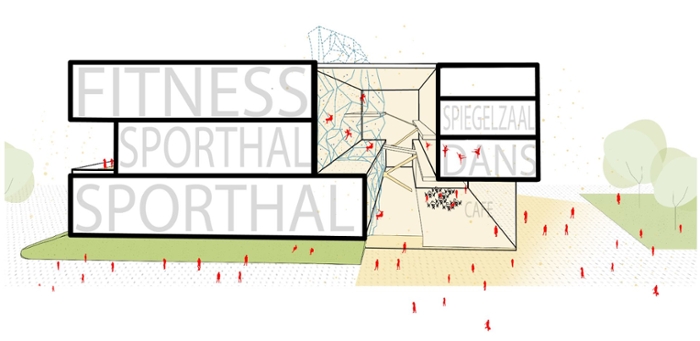 Development of entrance to Leiden Bio Science Park
The Leiden Bio Science Park will be further developed in the coming years into a place to study, work and live. Yisheng Developments has signed an agreement to develop and build the new entrance area. The entrance area will connect to the new central Campus Square, an attractive location with seating and a central fountain. Hartlijn, an easily identifiable walking and cycling route that will run right through the entire Leiden Bio Science Park from the train station will cross the square. Over 1,100 dwellings will also be built on the Bio Science Park.