Faculty of Science says goodbye to Dean Geert de Snoo
During the farewell reception on 29 August, the Faculty of Science will say goodbye to Dean Geert de Snoo. On 1 November 2019, he will continue his career as Director of the Netherlands Institute of Ecology (NIOO-KNAW). Colleagues talk about his significance for ecology, about his contribution as a director and about how it was to work with him. 'Geert knows how to make people grow!'
Carel Stolker – Rector Magnificus and Chairman of the Executive Board Leiden University
'There are always leaders who make their points in meetings with a lot of noise. Like whales off the coast, they cause bow waves with which they wash away all possible resistance in advance. However, this tactic – which does not exist in Leiden – has limited durability. It only works once or twice at most. Geert has a style that is completely different, a style that also characterizes him as a human being. Complimentary, involved, never angry, and his calm and low voice does the rest. With Geert, the content comes first, never the emotion.'
(Text continues after image)
Jan Boersema – Professor of Environmental Sciences at CML
'Geert has been a close colleague since 1994 when I moved from Groningen to the Institute of Environmental Sciences in Leiden (CML). We had inspiring discussions about the future of the Dutch landscape and wrote an article that seems to become more topical every year. It turned out that Geert has many talents. He moved from the field edge to the centre court, and from workgroup leader to scientific director and later on the dean. He turned out to be a gifted leader. He guided CML through treacherous waters, knows how to activate people, how to maintain coherence and peace, how to think ahead and how to put issues on the agenda. He is also successful in making you leave a meeting with a good feeling, even if, from an administrative point of view, you drew a blank.'
Carel Stolker
'Geert was a wonderful dean to work with: for his scientific directors within the Faculty of Science, but also for us as the Executive Board. He reads his documents carefully, has prepared discussions and ensures that there is accurate support in his faculty. Because without support, he knows, you're nowhere as a dean.
'Geert thus stood for his faculty, but he also had an eye for the justified interests of other faculties. And when it came down to it, the interests of the whole, of his university, took precedence over those of his faculty. Leiden University is losing a great leader.'
Professor Kurt Deketelaere – Secretary-General of the Leagues of European Research Universities (LERU) and professor at KU Leaven at the Institute for Environmental and Energy Law
'Exactly six years ago Geert and I looked at the possibilities of setting up a group for the LERU Natural Sciences Deans. After the necessary considerations and agreements, we finally set up this group, with Geert as its first chairman. A task that he took on very seriously, but also with humour. He therefore succeeded in putting the beta deans on the map quickly within LERU and in Brussels. For example by means of important papers on collaborative research and research infrastructures.
'LERU will miss Geert as chairman of the beta deans: anticipatory, diplomatic, but always purposeful and efficient. No wonder that the Netherlands Institute of Ecology has appointed him as its new director!'
(Text continues after image)
Hans de Iongh – associate professor at CML and guest professor at the University of Antwerp
'I've known Geert for over 25 years. In the 1990s, we both worked at the CML on the Garenmarkt in different departments. This contact became more intensive later on. Together we supervised a large number of PhD students and produced many publications. Our collaboration was incredibly pleasant and productive. Geert delegated a lot and also gave a lot of confidence, but at crucial moments he was also able to indicate broad outlines and to correct mistakes.
'Even as a dean, despite his busy schedule, Geert always took out time to consult with PhD students. Highlights were our field visits to PhD students in Indonesia and Kenya. We will hopefully continue to supervise three Kenyan PhD students together in the coming years.'
Laura Bertola – post-doc at the City University of New York
'During my PhD at CML, Geert was my promoter. I worked on the genetics of lions. This subject was not directly included in the core research of the CML, but there was a strong department working on carnivore ecology. Geert has the ability to ask questions that are directly relevant and to see the weaknesses in a reasoning or research plan. Despite a full agenda as a dean, he was always available to look at or discuss a manuscript critically. Also on short notice, for example when it appeared that a rival research group had just published a similar dataset. I've always appreciated that very much.'
(Text continues below image)
Edgar Groenen – emeritus professor of Experimental Physics and former vice-dean of the Faculty of Science
'Geert was the second dean I worked with as vice-dean. As the first action he managed to secure that I extended my vice-deanship. I have not regretted it and the good and pleasant cooperation with him certainly contributed to this. Geert is an amiable person, he listens well, asks sharp questions and quickly gets to the heart of the matter; qualities that have helped him to manage a diverse faculty successfully. In addition to being a skillful dean, Geert remained an active scientist. For that science he will probably get more time in his new job, which is perfect for him.'
Martina Vijver – Professor of Ecotoxicology at CML
'Geert and I have done top research together and will certainly continue to do so. With ingenious field experiments, we looked at how water fleas and other aquatic invertebrates react to metal particles and crop protection agents with various PhD students. We are currently investigating the impact of agrochemicals on aquatic communities and adjoining ecosystems in the beautiful outdoor laboratory 'Living Lab'. Thanks in part to his enthusiastic support, this is now a place where many researchers come together and carry out innovative tests in a field situation.
'Geert is someone who can switch between management, research and simply "putting the shovel in the clay". How nice it is to work with him. Geert knows how to make people grow!'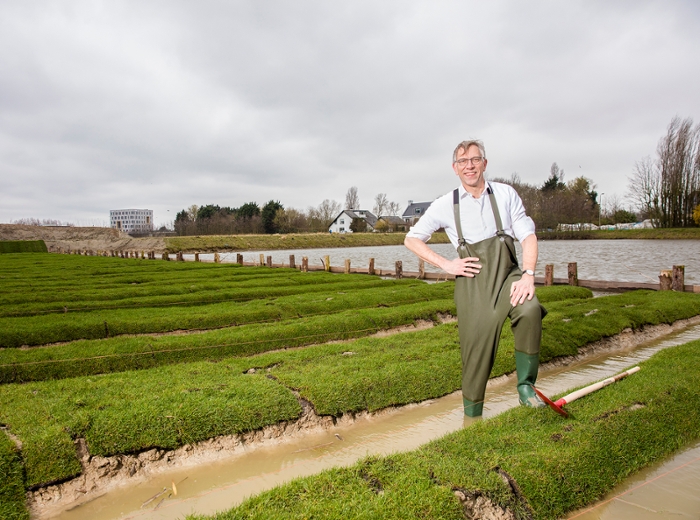 CV Geert de Snoo
Geert de Snoo (1961) studied biology at the Vrije Universiteit in Amsterdam and then became a researcher at the Institute of Environmental Sciences (CML) of Leiden University. During his PhD, he investigated the potential of unsprayed field margins for the environment, nature and agricultural practice. After obtaining his PhD, De Snoo received various subsidies from NWO, the EU, governments and the business community. He was also head of the Environmental Biology department at CML. In 2003 he became an extraordinary professor of Agricultural Nature and Landscape Management at Wageningen University.
De Snoo has been professor of Conservation Biology in Leiden since 2009. Between 2009 and 2012 he was the director of CML. He was also a member of the Board for the Authorisation of Plant Protection Products and Biocides (Ctgb) for five years. Furthermore, he was the initiator of the Leiden-Delft-Erasmus Centre for Sustainability. Until now, De Snoo has supervised about 30 PhD students. His current research focuses on nature management in rural areas and on the effects of pesticides on nature and the environment. The Snoo also propagates scientific insights more widely, for policymakers and a broad public, and is regularly asked by the media as an expert. Since 2012, De Snoo has been dean of the Faculty of Mathematics and Natural Sciences.