LLM Jeugdrecht come to Leiden for careers afternoon and alumni evening
On Tuesday 16 April 2019 study association JSV Liberi and the Department of Child Law welcomed alumni of the master's programme Jeugdrecht to a careers afternoon and alumni evening.
In the afternoon study association JSV Liberi had organised a careers afternoon where six alumni of the LLM Jeugdrecht spoke about their current jobs. Denise Verkroost told the audience about her PhD studies at the Department of Child Law at Leiden Law School; Lauren van Damme about her work as a legal assistant at the Court of Rotterdam; Tamara Kuijs revealed what it is like to work at the Stichting Kwaliteitsregister Jeugd, a quality register for professionals working in the juvenile sector; Lieke Buurman and Roos Willems talked about their jobs at the Ministry of Justice and Security as policy worker on supervision and as advisor on international children's issues respectively, and to round off the afternoon Marije Meijer spoke about her work as a lawyer at the International Child Abduction Centre. The audience was treated to six enthusiastic and lively talks that demonstrate the range of directions that are open to graduates of the master's programme Jeugdrecht.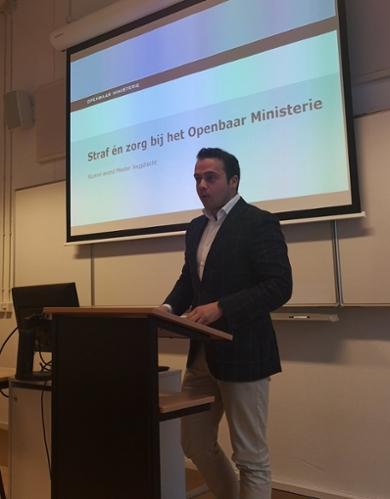 After the attendees had enjoyed a pizza, the annual alumni evening got underway. This evening was organised by the alumni committee Jeugdrecht which in line with tradition had baked some delicious cakes. Professor Mariëlle Bruning welcomed the alumni and spoke about developments within the LLM Jeugdrecht and the research that is currently being conducted at the Department of Child Law. She noted that there are now almost 200 alumni of this LLM programme and spoke of how special it is for her to regularly come in contact with alumni working in the legal profession or at conferences. Alumni Arjan de Vries and Machteld van Werven spoke enthusiastically about their positions as BOPZ secretary and policy worker Juveniles at the Public Prosecution Service (Arjan) and laywer (Machteld). Careers coach Marije Bedaux then gave practical tips on how to present yourself, job crafting, building up a career and other ways in which you can ensure that your job matches up perfectly with your own wishes. After all these interesting and inspiring tales it was time to close the evening with drinks where there was ample opportunity for networking.