Genner Llanes-Ortiz's Leiden Experience: 'Indigenous stories contain knowledge from deep past'
Back in 2016, Genner Llanes-Ortiz joined the Faculty of Archaeology as an assistant professor in the Heritage of Indigenous Peoples research group. Genner works on the crossroads of anthropology, archaeology, heritage, and human rights. 'I am investigating how contemporary indigenous peoples are re-connecting with their past to de-colonise their present.'
Indigenous rights
Genner grew up in the Mexican peninsula of Yucatan. He belongs to the Yucatec Maya people, the second largest indigenous people in Mexico. After graduating his BA programme in Social Anthropology, Genner started working for several Non-Governmental Organisations (NGO) in the region. 'I was involved in collaborative research with farmers, beekeepers, and communities.' He worked on sustainable development, intercultural education, and indigenous rights.
In 2002, Genner won a scholarship for indigenous academics with which he was able to obtain a master's degree at Sussex University. 'With a second scholarship, I also did my PhD in Sussex. I spent approximately 10,5 years in Britain. I was working at the end as a postdoctoral researcher in a project that explored indigenous arts and political mobilization, based in Royal Holloway University of London.' Going back to Mexico, he was appointed as a postdoc at CIESAS, the Centre for Research and Higher Studies in Social Anthropology. 'I was just finishing my postdoc there when I was invited to a conference and to apply for a job in Leiden, in 2015.'
In the next year, Genner was appointed assistant professor at the Faculty of Archaeology. He is a member of the Centre for Indigenous America Studies (CIAS), a joint project of the faculties of Humanities and Archaeology.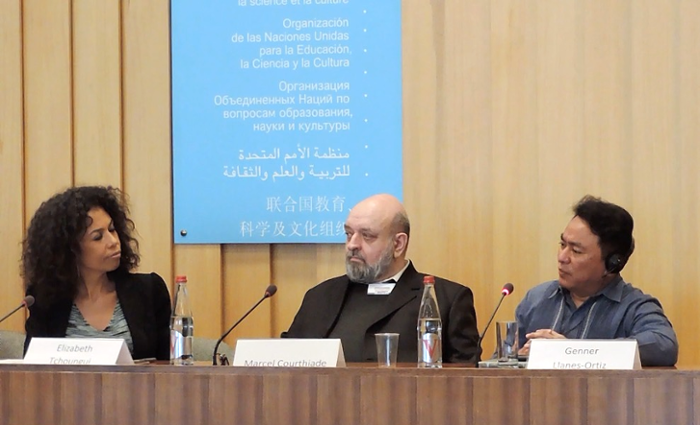 In present and past
When asked if his focus is more on the present than in the past, Genner replies that he is positioned 'both in present and past. This is both the recent past, as well as the historical past, and the archaeological past.' He explains that, in the Americas, our understanding of archaeological heritage is actually based on current indigenous knowledge. 'Concepts like landscape, symbolic importance of buildings, agricultural and economic systems in the past are connected to world views that Indigenous peoples maintain in the present.'
Working on establishing these correlations is not only useful for archaeology, but also relevant for indigenous peoples living today. 'Due to colonialism and economic inequalities, a lot of indigenous peoples are condemned to live on the margins of society. Reconnecting with our heritage is very important for recuperating our own history, sense of worth and place in the world. It is an important step towards the de-colonisation of knowledge.'
The continuous role of maize
Genner investigates how contemporary indigenous populations are re-connecting with, and re-appropriating their own past. He is involved in international projects that examine and promote language and cultural revitalisation in Mexico and other countries, through education, arts and digital technology. He is also developing now a research project that would bring different aspects of this process together. 'I am looking into the cultivation of maize. How maize agriculture created strong social, political, and economic relations between different pre-colonial societies in the Americas.' Maize has a crucial importance for many indigenous peoples. Genner explains. 'Among my own people, the Maya, an ancient story tells us that maize is the main substance from which humanity was created.'
On the other hand, 'maize is a plant that needs to be looked after. It does not exist in the wild.' In order for maize to grow and yield, it needs to be cared for by humans. 'Humans created maize, and maize then became an important crop.' Genner's research also involves the deep past of maize cultivation. 'Its origin is in Mexico where it was domesticated, according to most theories, more than 8,000 years ago. In my research, I plan to combine archaeological records, as well as linguistic and genetic analysis, to find out more about maize's propagation to different parts of the Americas.'
Adaptation and domestication
'Finally, what I would like to incorporate to my research is the importance of indigenous histories. Every indigenous society that survived colonization has stories about maize.' These stories would help to reveal information about maize adaptation and diversification – the basis of sustainable agricultures in the Americas – both in the deep and recent past. 'This research would potentially provide us a new, different picture of maize history, or histories. And, this could perhaps answer the question about how maize agriculture knowledge travelled from Mexico to other regions of the Americas, perhaps uncovering indigenous exchange networks and routes that are still unknown.'
Pass on the trowel
In this series we ask a staff member to pick a colleague of whom they would like to know more. Genner Llanes-Ortiz passed on the proverbial trowel to Amanda Henry. She will be interviewed for the newsletter of April 2019.