Bart Custers presents at law and AI research in Tokyo
On 22 December 2018, Dr. Bart Custers, Associate Professor and Head of Research at eLaw, Center for Law and Digital technologies, presented research results of the e-SIDES project at the Artificial Intelligence and Cloud Computing Conference (AICCC 2018) in Tokyo, Japan. His presentation dealt with big data and Artificial Intelligence (AI) in legal research.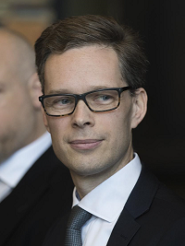 Methods of data research are becoming increasingly important in the legal domain. The presentation of Dr. Custers focused on the concept of legal big data, to show that law is an area in which a lot of big data is available. Several existing and potential applications of data research methods involving big data and AI for lawyers and legal researchers were discussed and illustrated. Particular opportunities exist with regard to (1) predictions, (2) searching, structuring and selecting, and (3) decision-making and empirical legal research.
See these websites for more information about the e-SIDES project and Artificial Intelligence and Cloud Computing Conference.