Successful international conference on Safeguarding children's rights in immigration law
The Institute of Immigration Law and the Department of Child Law of Leiden Law School organised an international conference on Safeguarding children's rights in immigration law on the 22th and 23rd of November, 2018. Nearly 100 participants and speakers were welcomed in Leiden.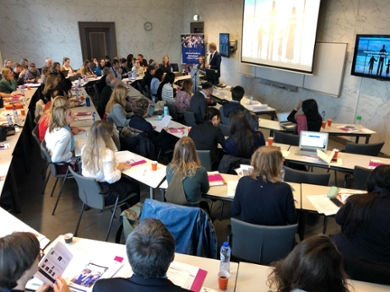 Millions of children are on the move worldwide and throughout the migration process, these children find themselves in a particular vulnerable position. The aim of this conference was to address the challenges in safeguarding children's rights in immigration law.
After opening words from Prof. Ton Liefaard and Dean of Leiden Law School Prof. Joanne van der Leun, three key note speakers addressed this issue from different perspectives. Ms. Andrea Vonkeman (Head of Office UNHCR the Netherlands) shed light on how to safeguard the best interests of the child in migration, giving concrete guidance and recommendations for practice. Dr. Bina D'Costa (Australian National University, ANU College of Asia and the Pacific) shared her vision on "children in the migratory pathway" from her experience as migration specialist working for UNICEF Office of Research, specifically focusing on (South-East) Asia. Prof. Peter Rodrigues focused on the protection of minors in European migration law.
On both Thursday and Friday afternoon, various aspects of immigration law and the protection of children's rights therein were discussed in parallel workshops, bringing together scholars and professionals from different countries, disciplines and backgrounds.
On Friday, the conference was closed by Mr. George Moschos, who was the Children's Ombudsman of Greece from 2003 until 2018. He reflected on the conference, drawing from his extensive experience of working with refugee and migrant children on the ground. He stressed the importance of the integration of children in society and changing the mentalities of people towards migrants to ensure the effective implementation of children's rights in practice.
This international conference has been sponsored by the Leiden University Fund / Schim van der Loeff Fonds.
"A really enriching 2-day exchange of viewpoints in a very friendly and conversation-inductive environment. Hope to be back soon for another one of your conferences!"
"Excellent conference bringing up some very relevant and timely issues. Much needed! Thanks for the wonderful welcoming and friendliness of the organisers and Leiden University."