Part-time silence: children with selective mutism
Livia, aged 7, was in class four. She loved to chat and was good at reading aloud. At least, at home. At school she never read aloud and she hadn't spoken a single word. What was going on? Selective mutism was the subject of the inaugural lecture by Maretha de Jonge, Professor by Special Appointment in Education and Child Studies on 14 September 2018.
Selective mutism and autism spectrum disorders are two of Maretha de Jonge's special areas of interest. 'They have something in common,' she explained in her lecture.' Both restrict children's social communication, which means that these children have a difficult time, particularly because this very skill is so important in present-day society.'
How do they manage?
De Jonge: 'My students often ask me how children manage, in many cases for years, without forgetting themselves and speaking. The rough estimate is that over seven out of every one thousand children are selectively mute. On that basis, there are around 240,000 childen who have or have suffered from this condition. The figure is based on international studies and it needs to be verified more precisely for the Netherlands.'
Why?
Livia suffered from selective mutism. As did Amine, a young boy who kept silent outside his home for two years. Amine spoke - including Dutch - with his brothers at home, but his teacher had never heard his voice. De Jonge: 'Very little is known about this problem. We want to find out what drives children to refuse to speak.'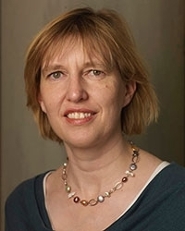 Long-term consequences
Before coming to Leiden, De Jonge talked to her fellow researchers in Utrecht, where she will continue to work part-time, and with young people and adults who at some point in their lives have had selective mutism. Some of them coped well, although they suffered a lot of anxiety. But a quarter spoke so little that they were unable to function at school or in their social lives. This condition causes particular problems for adolescents.
A world obsessed
De Jonge stresses the importance of working together with other disciplines, for example, with psychology and medicine. She expressed some concerns in her inaugural lecture. She quoted her great-grandfather Johan Huizinga: 'We live in an obsessed world. And we know it.' She continued: 'With these sombre words, written in 1935, he was referring not only to the tense time that Europe was undergoing, in the crisis period between two world wars, but also, even at that time, to the multitude of mechanical stimuli that the human mind has to process.' That multitude has since grown exponentially.
The two aspects of efficiency
'Efficiency in healthcare is important,' De Jonge believes. 'People needing healthcare benefit when the care is well organised and knowledge is shared effectively. But efficiency also means that healthcare becomes subject to the facts and figures that dominate the world of business. There is less and less time for multidisciplinary partnerships and for really listening to what carers and children have to say. And because the demand for healthcare is too high, we increasingly hear the term "normalisation" being used.' De Jonge is convinced this is not the solution.
Stricter definitions
'We have defined the norms and margins around what we consider normal more and more strictly, which means that many children fall outside these margins. Normalisation means greater uniformity, while there should be more opportunity for diversity. The issue that occupies every child and education specialist is that we need to make sure we have an educational environment in which children, adolescents and adults with a broad range of skills can take part: at home, at school, in internships and at work.'
Livia and Amine
Livia and Amine both now speak, Livia following specialist treatment, and Amine started to whisper softly of his own accord. De Jonge: 'What environmental factors and what factors related to the child itself made the difference for these children? That's what we are going to be studying.'
Read the complete lecture

Text: Corine Hendriks
Mail the editors
Maretha de Jonge has an appointment as Professor of Education and Child Studies. This chair was established by the PDBO Randstad Foundation for the Education and Child Studies-Generalist post-master's programme. Her remit is to promote Education and Child Studies, in particular for the post-doctoral professional training as Education and Child Specialist-Generalist.
Besides her part-time professorship at Leiden University, De Jonge also works at the Department of Psychiatry at the UMC Utrecht as Education and Child Specialist-Generalist/General Healthcare psychologist and cognitive behavioural therapist.