The whole world comes together in Leiden
Under a typically grey sky, more than 1,300 international students gather around the mentors with their numbered signposts. It is the start of the Orientation Week Leiden: the introduction week specially for international students at Leiden University.
The Orientation Week Leiden (OWL) is organised twice a year, before the start of each new semester. This summer version is the biggest because of the many students who are starting their bachelor's or master's programme in Leiden. They will be starting in September and this week will get to know the city and the university. These new students have come from all over the world. We asked a few of them in the summer of 2018 what brought them to Leiden.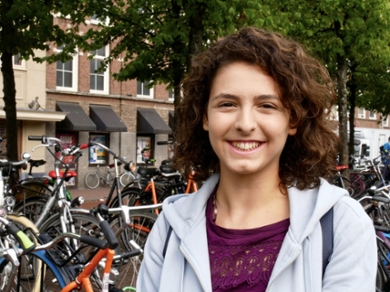 Paola (18, Italy) – Bachelor's in Psychology
Paola knew that she wanted to study psychology in English, rather than in Italian, and she soon decided that Leiden was where she wanted to study. 'The programme here is good, and everyone speaks good English.' An additional advantage is that studying in the Netherlands has financial benefits for Italian students. Last winter she visited five universities. 'Leiden stood out as by far the best. It's a friendly city and I love that the buildings are spread throughout the city, not on a separate campus.' She's looking forward to getting to know the city and her fellow students this week. 'I hope to make a lot of new friends while I'm studying here.'
Jack (22, England) – Master's in Public International Law
'I really wanted to do my master's abroad, but it had to be somewhere where they speak good English,' Jack explained. International public law at Leiden's Law School has a really good reputation. 'I think it's a fascinating area of the law, but it was only a minor part of my bachelor's. I'm looking forward to really getting stuck into it.' He's also keen to discover a new country. 'I already see how different it is from England. Everyone is much more relaxed, and friendlier. The weather's the same, though,' he laughs, opening his umbrella against a sudden shower.
Zhonghua (20), Yifing (20) and Guqiao (21), all three from China – Law
They've only just met, but already they're talking nineteen to the dozen: Zhonghua, Yifing and Guqiao are all going to be studying Law for a semester. Leiden's excellent reputation in the field of Law was the main reason for them to come here. Zhonghua tells us that she has already met some Leiden students at an international moot court competition. 'My own university has a lot of exchange programmes with American universities, but I preferred to come to Europe.' The proximity of the International Criminal Court was the deciding factor. Yifing: 'And the city is so picturesque!' They're all looking forward to getting started, and finding out how the academic world in the Netherlands really works.
Tang (25, China) – Master's in Computer Science and Business Studies
Tang has already taken a bachelor's in Information Science in China, but she wanted to move more toward the business side of IT. The Leiden master's in Computer Science and Business Studies was exactly what she was looking for. 'And I had already heard a lot about Leiden at my own university. Leiden is really famous for us!' She did hesitate for a while between Leiden and a similar master's in Amsterdam. 'But the programme here in Leiden is a lot more international, both in terms of students and lecturers. That really appealed to me.'
Maxi (19, Germany) – Bachelor's in Psychology
Maxi will also be starting the bachelor's in Psychology in September. 'I applied to a number of different universities in the Netherlands, and was accepted in both Amsterdam and Leiden.' Once she had visited both universities, the choice was easy. 'Amsterdam is so crowded, and Leiden is more relaxed.' Not only that, the study programme in Leiden appeals to her more, because you can already start to specialise in the third year of the bachelor's. Laughing she says, 'But first let's see if I make it through the first year!' To feel at home and get to know more people, she's going to join a volleyball club. 'Doing sports together is a good way of making friends.'
Bike sale
A recurring part of the OWL is the bike sale at the beginning of the week. After all, international students need to move around, too. But can the new students handle a bicycle? We went to the bike sale to find out.