Royal honour for astronomer Tim de Zeeuw
Leiden astronomer Tim de Zeeuw has been appointed Knight in the Order of the Dutch Lion. He received the distinction on 14 May to mark his departure as Director General of the ESO European Astronomy organisation. The celebration took place during the 2018 Dutch Astronomers Conference in Groningen.
Services to science
De Zeeuw's career shows that he possesses extraordinary scientific and management capabilities. He played a leading role in the development and application of a method to discover movement and recurring structures in elliptical galaxies, and to measure the mass of black holes. His fundamental, strong analytical and innovative scientific contributions to the field have led to a radical reassessment of the outlook on galaxies and their role in the universe.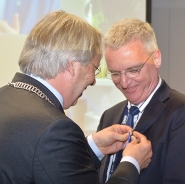 NOVA
From 1993 to 2007, De Zeeuw was director of the national research school NOVA, which coordinates the astronomy programmes of four Dutch universities. Under his supervision, Dutch astronomy has enjoyed enormous growth, raising it to a position of global excellence.
ESO
In 2007, De Zeeuw became Director General of ESO, the European Southern Observatory, of which sixteen countries are members. Under De Zeeuw's management, Europe became the leader in ground-based optical astronomy. De Zeeuw is recognised worldwide for his role in initiating the expansion of the existing arsenal of measuring instruments to include a new generation of instruments for observing the dynamics in our galaxies. These include ESO's super-sized optical telescope E.ELT in Chile, which made it possible for astronomy to take major steps forward. It was a difficult feat to get all sixteen ESA members on board.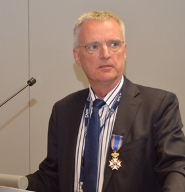 ALMA
De Zeeuw also played a crucial role in international collaboration on radio astronomy. To realise the ALMA radio telescope in the Andes, he brought together (financial) partners from Europe, the US and East Asia. The observations that can now be made with this telescope are expected to result in new, guiding insights.
Early brilliance
De Zeeuw's brilliance manifested itself early on: he graduated cum laude and also obtained his PhD with honours. After that, he started his career in Princeton as a member of the Institute for Advanced Study and went on to become senior Research Fellow at the California Institute of Technology. Both are renowned research institutes; just being employed at either of these institutions is a clear sign of recognition. In 1990, De Zeeuw returned to Leiden and become the director of NOVA three years later. De Zeeuw is married to Leiden colleague and professor and also renowned astronomer Ewine van Dishoeck.
(CH/photos: © SRON / Wim Horinga)