Future of Public Leadership Research
On Wednesday 11 April, the festive ceremony of the leadership agenda took place, which was developed by the Leiden Leadership Centre in collaboration with partners from practice. The 'Moving Forward with Public Leadership' research and development agenda was handed over to Mayor of The Hague, Pauline Krikke and Rector Magnificus Carel Stolker. The professional jury presented its selection for a follow-up project that the Leiden Leadership Centre will be working on in the coming year.
The ceremony took place on the Spanish steps in the Wijnhaven Building, in the presence of managers and professionals from public organisations, scientists and students. After a short introduction by Sandra Groeneveld, Mayor Krikke and Rector Magnificus Stolker were presented with the agenda. Both expressed their enthusiasm about the agenda and about the collaboration between theory and practice formed by the Leiden Leadership Centre. In a short interview, Krikke and Stolker mentioned that the exchange of knowledge and experiences bridge two worlds that can offer more insight into public leadership and serve as a guide to public leaders.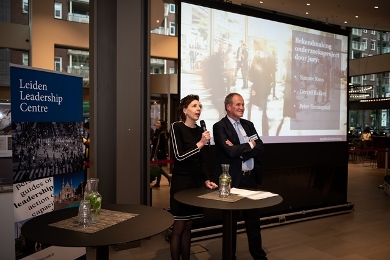 After the ceremony, the professional jury presented its selection for a follow-up project. The jury comprised Simone Roos (Director-General Government Organisation at the Dutch Ministry of the Interior and Kingdom Relations), Peter Hennephof (Town Clerk, The Hague) and Gerard Bakker (Chair of the Board of the Central Agency for the Reception of Asylum Seekers and VOM's '2017 Government Manager of the Year'). Three research proposals in the area of public leadership were presented to the jury, from which the 'Public Leadership and Added Social Value' project was selected. The Leiden Leadership Centre will collaborate on this project with organisations in the public sector; they will focus on translating this added value into everyday practice. The jury mentioned that this issue was something that they often saw in their organisations: 'It's crucial to be aware of the added value of public action and to relate this to the legitimacy of public administration'. Researcher Eduard Schmidt will conduct this research in 2018 together with colleagues from the LLC.