Prof. Ton Liefaard speaks on children's rights at the University of Curaçao
On Friday 12 January 2018, the University of Curaçao celebrated its 39 years of existence. Prof. Ton Liefaard , Professor of Children's Rights and UNICEF Chair in Children's Rights addressed the audience with a lecture entitled: "20 years United Nations Convention on the Rights of the Child. Do we really take children seriously?"
Prof. Ton Liefaard observed that the United Nations Convention on the Rights of the Child fundamentally changed our view on children. Nevertheless, challenges stand in the way of a complete implementation of children's rights on the domestic level; 1) children are often addressed fragmentarily, without a clear understanding of which authority bears responsibility for the issues at stake; 2) children are not always treated as full bearers of rights, which is evidenced by the exclusion of certain groups of children and ongoing violence against children; 3) children are insufficiently empowered to participate in decision-making processes that are relevant for them.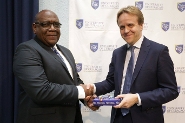 Should you be interested to view his speech (in Dutch), please visit the website of the University of Curaçao.
For more information on the upcoming Spring School 'Frontiers of Children's Rights in the Caribbean Region', 5-9 March 2018, Curaçao, visit the school's website.