International Advisory Board welcomes Judge Peter Tomka of the International Court of Justice as its new Chairman
The International Institute of Air and Space Law is very proud to announce that Judge Peter Tomka has accepted the position of chairman of its International Advisory Board. During the Board meeting on 15 November 2017, Judge Tomka officially succeeded Professor Laurens Jan Brinkhorst as chairman of the board. Judge Tomka has been a Board member since 2009.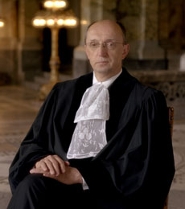 His very prestigious position at the ICJ since 2003, including a term as President from 2012-2015, as well as his deep knowledge of international law and space law and his dedication and loyalty to the board are much appreciated. The Institute looks forward to working with him. Judge Tomka's biography may be found here.
Professor dr. L.J. Brinkhorst appointed as Honorary Chairman

Prof. Laurens Jan Brinkhorst served for nine years as chairman of the board and contributed greatly to the reputation and successes of the Institute, bringing a practical perspective to academic discussions.
To express its gratitude, the International Advisory Board agreed to appoint him as honorary chairman.