Catherine Harwood: 'The Hague, a global epicentre for international law and justice'
Catherine Harwood joined the Grotius Centre in The Hague a few years ago. She received her Advanced Master's degree in Public International Law in 2012 and continued her PhD studies at Leiden University.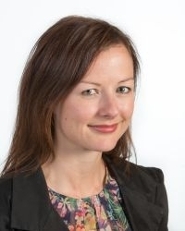 You are currently working on your PhD at the Grotius Centre. How did your research on international commissions of inquiry come about?
'My PhD position grew out of a broader fact-finding project led by my doctoral supervisors, Prof. Larissa van den Herik and Prof. Carsten Stahn. I was very interested in recent UN practice of establishing international commissions of inquiry to investigate allegations of serious violations of international law. I am intrigued about how and why these non-judicial bodies engage with international law in the way that they do.'
What are you trying to accomplish with your research?
'Because a commission of inquiry is set up to investigate a particular situation and dissolves after issuing its report, these bodies are in one sense highly 'ad hoc' and idiosyncratic. By analyzing multiple commissions, I hope to illuminate how international law has come to play such a central role in their work, and explore how and why commissions have interpreted international law in light of their broader purposes and functions. These observations may lead to some recommendations as to how commissions might engage with international law persuasively and perhaps even authoritatively.'
Which classes do you teach?
'In addition to teaching a course on International Humanitarian Law at LUC, I have guest-lectured in various programmes and coach the Leiden team in the Kalshoven IHL Moot Court Competition. My teaching interests include international humanitarian law, human rights, international criminal law and transitional justice.'
You have been a Moot Court coach for a number of years now. What is so special about Moot Courts?
'Moot court competitions offer a unique opportunity to hone students' skills in legal argumentation, oral advocacy and teamwork, as well as developing expert knowledge of international law: in short, competencies that are highly valuable for real-world lawyering. As a coach, it is a real pleasure to see students' confidence grow as they master these skills, the benefits of which will endure beyond any moot competition.'
You are originally from New Zealand. Why did you choose to write your PhD at Leiden University?
'Although I miss family and friends (along with New Zealand's summer, which seems impossibly balmy during Dutch winters), I am very happy to be writing my PhD at Leiden University. As an alumnus of Leiden's LL.M. in Advanced Studies in Public International Law, I was impressed by the quality of teaching and research, and was also attracted by the opportunity to gain teaching experience while writing my PhD. It is also wonderful to be based in The Hague, a global epicentre for international law and justice.'