'No, I don't find my work creepy'
Archaeologist Hayley Mickleburgh has already appeared in the Dutch papers a few times already due to her unusual work: the study of decomposing bodies. She studied at Leiden University, where she is now a researcher.
NEXUS 1492
Mickleburgh, a Brit who has lived in the Netherlands since the age of six-and-a-half, works in Leiden on archaeologist Corinne Hofman's mega archaeology project NEXUS 1492, which involves 'rewriting' Caribbean history from the perspective of the Amerindians (the Indians of North and South America). Hofman was awarded a 15-million EU grant for the project. Mickleburgh studies bodies as they decompose in the open air and when buried to discover when the soft tissue disappears and how the skeleton falls apart. Does this decomposition process differ if the body is lying on its back, sitting or lying on its side? And in which order does the skeleton fall apart?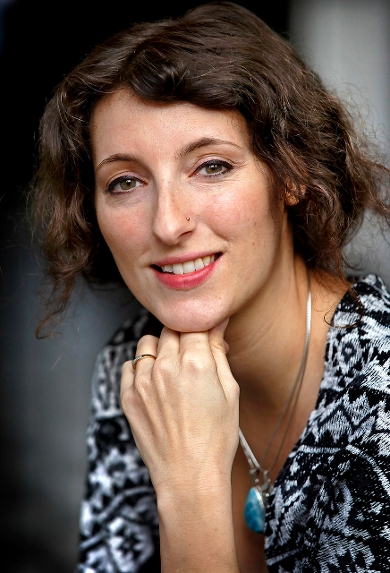 Position can teach us a lot
'That question is relevant to the NEXUS project,' Mickleburgh explains. 'We need to learn more about the position of the skeletons that we find at digs. Are they lying in the position that they were buried in or were they manipulated later? This can tell us a lot about burial rites, for instance.' Mickleburgh is also researching the decomposition process under different circumstances. Does it differ in a body that has been buried from in one that has not?
Body Farm
Mickleburgh conducts her research at a Body Farm in Texas, an open-air laboratory specially built for such research. There are only seven of these in the world, six in the US and, recently, one in Australia. 'There had long been a need for experimental research in funerary archaeology,' [relating to death, mourning and funerals] says Mickleburgh. 'This could answer a lot of questions.'
Young and a woman
Apart from the fact that the research itself already captures the imagination, Mickleburgh stands out because she is a woman, and young at that. Millions of people love thrillers and crime fiction, but very few would like to stand face to face with the bodies that pop up all over the place in such books. 'No, I don't find what I do creepy or gruesome. The sights and the smells don't bother me at all. This is mainly because these are always people who have left their body to science and have agreed to this specific research. If that were otherwise, it would be a different matter.' The research does have some overlap with that of a pathologist. 'They are definitely interested in what we do, but they are more used to working with bodies in the initial period after death, and less so with skeletal remains.'
Name: Hayley Mickleburgh (1984)
Degree: Archaeology of Indian America
Study Association: Catena (about 1.5 years)
Favourite spot in Leiden: 'The courtyard of the Reuvens Building. Students and staff members ate their lunch there together and we also barbecued there. It was a lot of fun.'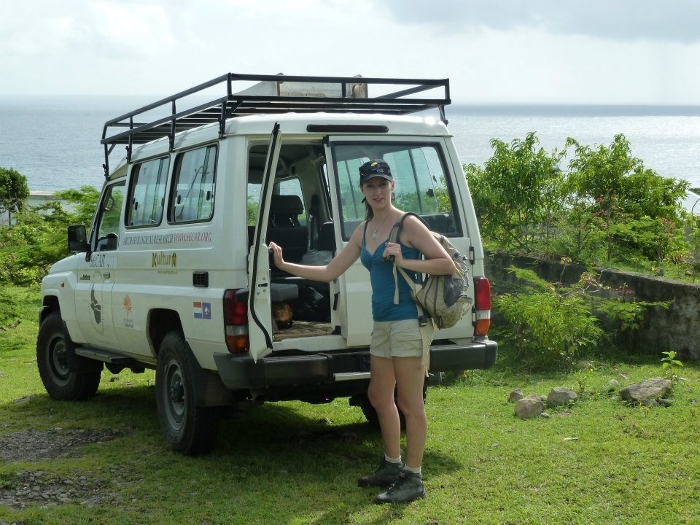 Interest in bioarchaeology
When Mickleburgh talks about her Bachelor's and Research Master's degrees and what followed, it is clear that it all led to this type of research. She graduated with Bachelor's and Master's degrees in the Archaeology of Indian America and a Research Master's in Archaeology and was particularly interested in bioarchaeology. As this was not a specialism in Archaeology at the time in Leiden, she followed courses with Leiden forensic anthropologist George Maat as well as at Texas State University. After her studies in Leiden she began a two-year Master's programme in Forensic Science in Amsterdam, but did not complete this because she was awarded funding through the NWO Toptalent programme for her PhD research in Archaeology. She later followed courses including one on forensic facial reconstruction in Great Britain. Her PhD thesis was on dental wear and pathology in precolonial Amerindians in the Caribbean and changes in this over time.
New model for interpreting skeletal remains
At the end of her PhD programme Mickleburgh worked for a brief spell as Corinne Hofman's research assistant. When Hofman was awarded her big EU grant – and a 2.5 million Spinoza Prize in the Netherlands – she appointed Mickleburgh as project manager in the grant-agreement phase. Once the project began Mickleburgh became postdoc researcher and developed a proposal for experimental research into the decomposition of the body and how the skeleton falls apart. This should result in a new model for the interpretation of archaeological graves. Her research took her to the Body Farm in Central Texas. 'The facilities there are really good, and the ethical side is sound too. It took about a year and a half to get approval.'
Analysing research data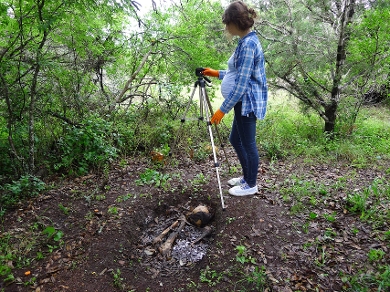 Mickleburgh's research does not mean she has to be in Texas at all times. She also plays a role in analysing the huge amount of research data that the digs in the NEXUS project yield. She does this in Leiden. She lives in Leiderdorp with her partner, also an archaeologist, and had her first child in June.
Contacts outside the Faculty
For Mickleburgh her student days were exactly what they should have been: an almost perfect coming-of-age, a period of development and making friends. The Faculty of Archaeology met all her needs. She joined Catena, along with other Archaeology students, but this proved unnecessary: she found what she needed at the Faculty, where the students and staff are very close. She thinks that this is due in part to the periods of fieldwork – in her case a few months in the Caribbean – where students and staff work intensively together in the name of science. She was also active in the general archaeology study association Terra and its Precolumbian subgroup Johan de Laet. This is not to say that she never left the Faculty: she took electives in literary studies and lessons in the Indian languages Maya and Nahuatl, and here she met students that she clicked with too. And she worked a lot in restaurants and bars, which gave her a social life outside the Faculty.
Humans are interested in themselves
'What is the most important thing I have learnt in Leiden? Alongside the practical experience, that would have to be a very broad, open approach to research into the past of humanity. There are dozens of specialisms in the discipline, a mixture of the arts, sciences and social sciences that together make up 'Archaeology'. The common theme is the continuity of humans from the past to today; our archaeological interpretations are also relevant today, politically, socially and culturally. We show how important it is to preserve our cultural heritage. It is only to be expected that archaeology intrigues so many people. They are interested in themselves as individuals but also in humanity as a whole and the timespan of human societies. We tell their story.'