Refugee children explore cosmos with Universe Awareness
In September 2016, the educational programme Universe Awareness (UNAWE) implemented a series of educational activities at Basisschool De Verrekijker, a primary school for refugee children in Katwijk, the Netherlands.
In this month-long astronomy project, more than 180 children and their teachers engaged in astronomy educational activities. For instance, participants learned about the planets of our Solar System and created their own spaceships. This astronomy-themed month was concluded on 30 September with a visit from the NOVA Mobile Planetarium and a family day where parents and siblings could see what the students learned and created.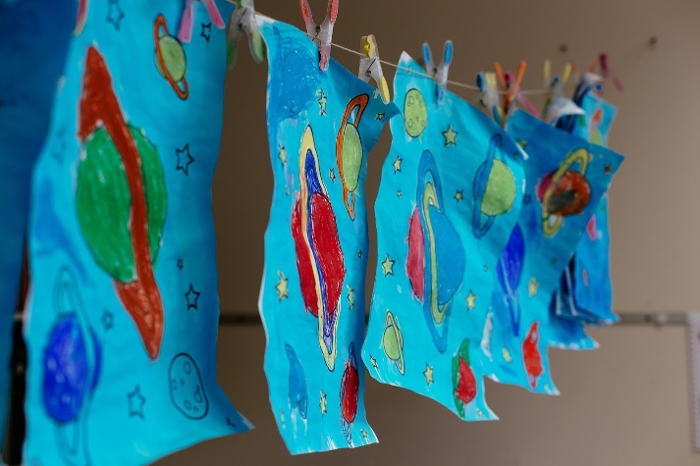 Universe Awareness
Since early 2016, UNAWE has implemented several initiatives with refugee children in the Leiden region. UNAWE aims to inspire young children around the world with astronomy, science and technology, because astronomy embodies a unique combination of scientific and cultural aspects. Learning about our amazing cosmos offers a special perspective on our place in the Universe that encourages a sense of global citizenship and tolerance.
Discovery Club
In the first half of 2016, UNAWE implemented Discovery Club, an after-school Science, Technology, Engineering, Arts and Mathematics (STEAM) programme developed to inspire, educate and entertain children and parents in refugee centres. Discovery Club held weekly sessions with a group of around 30 children. According to Tibisay Sankatsing Nava, Project Manager at UNAWE, there was an enormous willingness to help by volunteers within, as well as outside the Sterrewacht: 'With the volunteers we managed to provide fun, hands-on science activities for the kids every Saturday. The children needed continuity: their lives had been disrupted and the weekly activities provided both a fun learning opportunity and stability while they were in the emergency center.'
Refugees and locals
In addition to its activities with kids, Leiden Observatory hosted the first HaloHalo event in Leiden on 6 August, in collaboration with the Qatar Foundation WISE Learners' Voice Programme. HaloHalo aims to catalyse encounters between recently arrived refugees and European locals by bringing people from different backgrounds together to share and learn skills from each other. In the long term, the goal is to create a community built on learning, respect and mutual dignity.
Future
Universe Awareness and Leiden Observatory continue to work with underserved children around the world. From the experiences with Discovery Club, a best practice guide is being established to scale up activities across the Netherlands, while additional fundraising continues. In the meantime, there will be sessions of Discovery Club at refugee centres in the Netherlands and HaloHalo events in Leiden.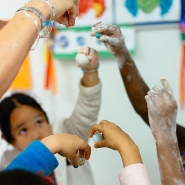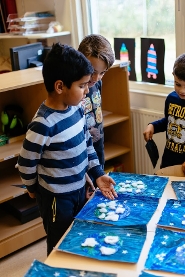 All pictures were made by Wouter Schier from UNAWE.
These efforts aim to promote togetherness and global citizenship through learning, bringing people from various cultural backgrounds together into flourishing communities. Leiden Observatory is always looking for volunteers to contribute to these educational activities. If you want to work with us, you can contact Pedro Russo at russo@strw.leidenuniv.nl.