Jorrit Rijpma at Odysseus' Annual Conference in Brussels
On 26 and 27 February the Odysseus Network organised its annual conference on the very topical subject of Solidarity in the EU's asylum and border policies.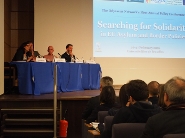 Jorrit Rijpma presented on the last panel providing concluding remarks on Session Three of the Conference. In that session special attention was paid to the institutional structures for solidarity: the hotspots in Italy and Greece, as well as the Frontex and EASO agencies.
Rijpma pointed out that centralisation may not always be the most appropriate answer to the challenges the EU is facing. He called for a return to the basics of EU law: respect for commonly agreed rules and enforcement by the Commission.