Research in conflict zones requires courage and caution
The life of a researcher is not easy, as many a scientist will confirm; but doing fieldwork in an environment of conflict and violence is extremely compex, attests the account of Dr Roland Ziébé, veterinarian in Cameroon and researcher at both the Leiden Institute of Environmental Sciences (CML) and the Institute of Cultural Anthropology and Development Sociology.
On 17 December, Ziébé received his PhD degree from Leiden University for his research into the increasing poverty and over-exploitation of the ecosystem through fisheries in the Waza Logone area. This region, in the north of Cameroon, is often in the news; not because of the conflicts between fishermen, but for the violence of terror groups such as Boko Haram. "The Far North Region is known for its food shortages, droughts and devastating floods, but it is currently characterised by raging conflicts and unrest that spread out to neighbouring countries Chad and Nigeria."
A dysfunctional society
Carrying out research in such an area requires vigilance in the context of a dysfunctional society and unstable power relations. "The violence creates an atmosphere of total psychosis among the population leading to a climate of insecurity, fear and distrust; it's almost impossible to do research here," states Ziébé. "In international relations this is designated as a red area and foreigners are forbidden to go to this part of the country. Suicide bombings and killings occur regularly, even in the provincial capital Maroua."
Fieldwork under surveillance
Because of this atmosphere of violence and insecurity, conducting research has become very complex. "In the field, you have to identify yourself continuously to administrative, traditional and military authorities. You have to show what kind of research you are doing and who you are workinig with. You need papers and permits from the Chadian authorities to cross the Logone River and you are even recommended to travel with guards." But being accompanied by guards or authorities has its downside for the research. "You can get access to the villages, but the people feel less free to answer questions or give you information."
International partners flee the scene
However, the main consequence of the conflict is the breaking up of international cooperation. Several universities and research centres have already withdrawn their investments and activities. "As a result, the research team at Ohio State University, with whom we had previously organised meetings in Yaounde, Garoua and Ngaoundere, are relocating their project to the floodplains of the Niger."
Research as comfort to the people
Yet, Ziébé's research team is not despairing. "We are convinced that there will be an end to this situation. For now, courage and caution are required. Courage because the people who live there need support and hope, and our coming there gives them some comfort; and to hold on to the conviction that the situation will change. And caution in carrying out the research meticulously, with the responsibility to continue the fieldwork, however difficult that may be, for the sake of the tremendous efforts being made to return to a peaceful existence."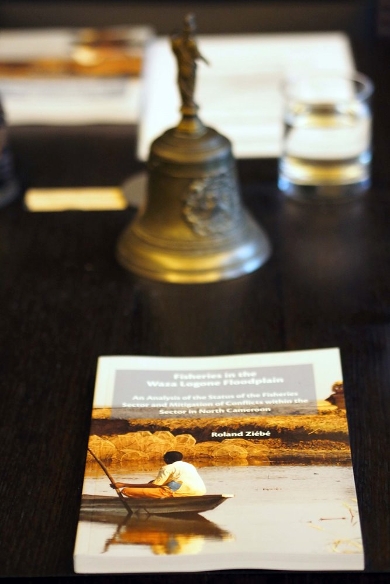 Dissertation: Fisheries in the Waza Logone Floodplain. An Analysis of the Status of the Fisheries Sector and Mitigation of Conflicts within the Sector in North Cameroon' (2015)
Photos: Helmie Dingemans