Annual Business Event 2015
Big Data - Big Business? - wrap up
At the Annual LIACS Business Event on November 17, about 60 particants enjoyed the presentations from LIACS, Honda, Volkswagen, INDG and Qualogy.
The program offered a mixture of science- and business topics and the speakers conveyed their messages such that it inspired any of the participants. The main idea behind this event is to support you and your organisation in becoming more effective in dealing with data, whilst providing you with the latest scientific insights in the domain of Data Science.
A few insights that could be extracted from the event:
In order to have impact one would need an effective combination of a) Capacity, b) Connections and c) Imagination. The latter is usually the biggest challenge.
The future of using data science in engineering: Get a grip on the whole design process, not parts of it.
Data Science fundamentally changes the way organisations operate. SME's have more flexibility, less policies and can better respond to client requirements.
We are not approaching the end of theory: Engineers would never use new technologies without understanding the physics behind it.
The data scientist needs a skill set in terms of technology, capabilities, and soft skills which significantly differs from those of the business intelligence and the statistics expert.
Humans add interpretation and emotion to the data, hence storytelling adds a lot to the impact of Data Science.
The program: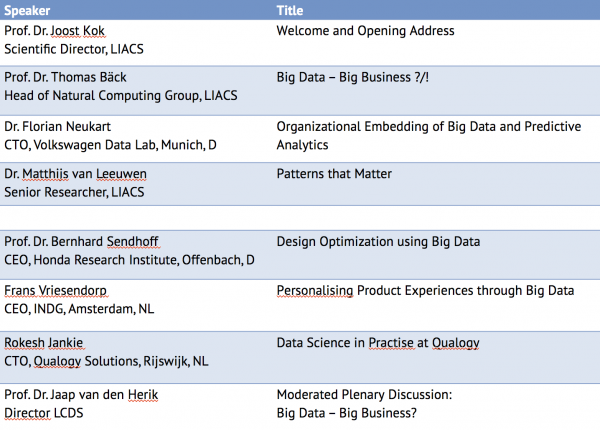 The presentations can be found here:
Personalising Product Experiences through Big Data by Frans Vriesendorp (to come)
Click here for the Bio's of the speakers.
For reasons of privacy we will not share an overview of particiants. However if you are interested to get an introduction, please do not hesitate to contact us.
We trust this event was worthwhile for you and any feedback is well appreciated. You can send an email to: events@liacs.leidenuniv.nl