Research project
Making Sense of Illustrated Handwritten Archives
Many handwritten and illustrated archives contain a wealth of information, but are largely underexplored because they are complex and difficult for computers to decipher. The aim of this project is to develop a digital environment that resolves this challenge and connects heterogeneous archival content to other digital sources.
Duration

2016 - 2020

Contact

Funding

NWO (Creative Industry); Brill Publishers

Partners

Leiden Centre of Data Science
Leiden Institute of Advanced Computer Science
Brill Publishers
Naturalis Biodiversity Center
Artificial Intelligence and Cognitive Engineering (Groningen University)
Science, Technology, and Policy Studies (Twente University)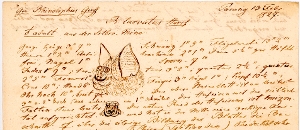 The project is centred around one of the top collections of Naturalis Biodiversity Center: the archive and collection of the Natuurkundige Commissie, which contains a rich verbal and pictorial account of nature, cultures and economics in the Indonesian archipelago (1820-1850).
The researchers will use an advanced system for handwriting and image recognition (Monk), complemented with contextual information on species, locations and habitats. Naturalis' taxonomic expertise, in combination with history of science methods, will be used to refine the system further. The outcome of the project will allow Brill to offer the system as an online service for the heritage sector. This will serve both curators of illustrated handwritten archives and researchers who wish to further the understanding of these collections.

The application for the project was submitted jointly by the Leiden Centre of Data Science (LCDS) Leiden Institute of Advanced Computer Studies (LIACS), Naturalis Biodiversity Center, Groningen University, Twente University and Brill Publishers (as partner from the creative industry). The lead applicant is Professor Jaap van den Herik (LCDS).

Image: Naturalis Biodiversity Center, Archief van de Natuurkundige Commissie voor Nederlands-Indië.