Thomas Bäck holds Cleveringa lecture in Calgary, Canada
On 26 November 2014 Prof. Dr. Thomas Bäck gives the Cleveringa lecture at the University of Calgary in Canada entitled: Innovation: Can we use principles of evolution to guide it?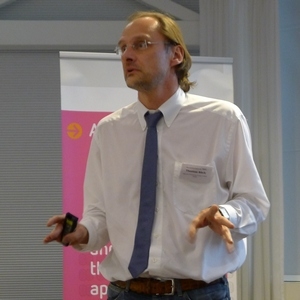 This lecture takes place on the occasion of the annual anniversary of the lecture by Rudolph Cleveringa in 1940, protesting against the dismissal of Jewish colleague-professors. Together with the Cleveringa Committees all around the world LUF yearly organizes a series of Cleveringa meetings around this time to commemorate this famous speech. The lectures are given by Leiden academics in cities worldwide.
During the Second World War, on 26 November 1940, Professor Cleveringa, Dean of the Faculty of Law, delivered his historic speech in the Academy Building protesting against the dismissal of two Jewish colleagues. Cleveringa'™s speech prompted a student strike, after which the Nazis closed the university in Leiden.