Hans ten Napel Awarded Research Fellowship at Princeton University
Hans-Martien ten Napel has been awarded a Research Fellowship in Legal Studies at the Center of Theological Inquiry (CTI) at Princeton University, USA, which enables him to be in full-time residence at CTI for the academic year, 1 September 2014 to 31 May 2015.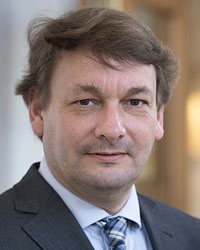 The mission of the Center is to be 'an environment for fresh thinking on the problems of religion and society, where theologians would seek wisdom with other scholars'. The topic for the interdisciplinary inquiry to be carried out during the coming academic year is 'Law & Religious Freedom'. It forms part of a special three-year series of inquiries, made possible by a major grant from the John Templeton Foundation. The CTI fellowship program is independent of, yet also collaborates with, the Program in Law and Public Affairs (LAPA) at Princeton University, which 'explores the role of law in constituting politics, society, the economy and culture'.

During the year there will be symposia and consultations with leading scholars, including Jeremy Waldron (University Professor at New York University School of Law), David Hollenbach (Director of the Center for Human Rights and International Justice at Boston College) and John Witte, Jr. (Director of the Center for the Study of Law and Religion, Emory University). The project will be led by Mary Ellen O'Connell and Peter Danchin, in collaboration with Robin Lovin, Director of Research at CTI. Mary Ellen O'Connell is Professor of Law and Research Professor of International Dispute Resolution at the University of Notre Dame. Peter Danchin is Professor of Law and Director of the International Comparative Law Program at the University of Maryland.

Hans-Martien's own envisaged research in this area acquired its current focus on the associational and institutional dimensions of religious freedom largely as a result of a stimulating conference on 'Religion and Civil Society; The Changing Faces of "Religion" and "Secularity"' held at Harvard Law School in 2012. The paper on 'State, Civil Society and Religious Freedom', that he presented on that occasion, was published in the Oxford Journal of Law and Religion in October 2013. It also formed the basis of his own contribution to a research proposal, co-authored with Dutch-American historian James Kennedy as principal applicant, that was granted a major subsidy by the Dutch Association for Scientific Research (NWO) in 2013. With the subsidy for this project, entitled 'Religion Renegotiated: Faith-Based Organizations and the State in the Netherlands Since the 1960s', both a Ph.D. fellow and a Postdoctoral Researcher have been appointed at the University of Amsterdam.

Before leaving for Princeton, he will participate in the workshop on 'The Mutations and Transformations of Division of Powers: the Constitutional Organization' during the 9thWorld Congress of Constitutional Law in Oslo, Norway (June 16th-20th, 2014), and attend the Inaugural Conference of the International Society of Public Law, Florence, Italy (June 26th-28th, 2014). In between these two conferences he will also co-organize an international workshop on 'The Powers That Be. In Search of Power Shifts & New Checks and Balances in Multilevel Legal Orders' at Leiden University.