Leiden Law Cast #1: Child benefits scandal & compassion with Professor A.G. Castermans
Leiden Law Cast is a podcast made by Leiden Law School, Leiden University, for everyone who wants to learn more about current legal issues.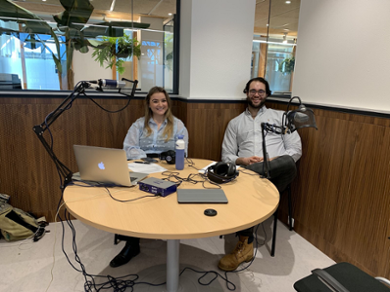 Leiden Law Cast is a podcast for everyone who wants to learn more about current legal issues. We present information in a more 'digestible' form, shining a light on all the latest issues and science news. Two students from our faculty, Irem Çakir and Hamza Duprée, present the podcast. In each episode they ask a member of the academic staff at Leiden Law School about a topical legal issue.
Professor Alex Geert Castermans is Leiden Law Cast's first guest. In this episode, we discuss his contribution to the Scheltema Lecture in which he spoke about the child benefits scandal in the Netherlands and compassion in the law.
Poor state
Alex Geert has taught civil law at Leiden University for 12 years. It is also the university where he graduated and was awarded a PhD. He also worked as a lawyer for 12 years at law firm Pels Rijcken & Droogleever Fortuijn and was chairman of the Equal Treatment Commission. Alex Geert tells us about his time as a student and about the poor state the Netherlands was in at that time, and Leiden in particular. As a result, many programmes were launched to help people in need. Besides the Legal Advice Centre (rechtswinkel) where, as a student, he was able to look behind the scenes of legal practice, another such initiative was the childcare benefits scheme.
These benefits aim to encourage parents (also single parents), to participate in the labour market by removing financial barriers to using childcare facilities. The system works with advance payments that are paid directly to the childcare organisations. At a later stage, these (often very high) amounts must be accounted for by the beneficiary parents.
The huge political commotion surrounding the child benefits affair was partly based on the disproportionality of the amounts that were being reclaimed by the tax authorities. Alex Geert refers to one example where the parents had to repay €17,000, after not being able to account for an amount of €190.
When asked about compassion in the civil courts, Alex Geert responds by saying that civil law is not very forgiving. But it does have 'escapes' which can help to avoid very unreasonable outcomes. Could something like that also be possible in administrative law?
Alex Geert refers to very unreasonable outcomes in civil cases in the 1920s. He claims that at the time, prominent professors of civil law Meijers and Scholten urged civil lawyers to display more reflection. Since then, civil law has evolved in such a way that it is possible to give a ruling contrary to the letter of the Civil Code if the legislature did not foresee this individual case. This is in line with the concept of 'reasonableness and fairness'. This basic principle in the Netherlands states that common law, unwritten law and general principles of law can influence interpretation, for example of obligations.
Legal positivist
In this regard, Alex Geert also recalls the case of the department store chain V&D. The landlords of the V&D shop premises had tried to enforce payment of the rent in court when the chain was in dire financial straits. The Arnhem Court of Appeal put a stop to this: enforcing compliance would push V&D into the abyss, with disastrous consequences for all employees and their families. Alex Geert argues that the administrative courts, like the civil courts, should be able to act with such imagination. Being able to play with the law is a great asset in solving such problems.
Alex Geert argues that he is nevertheless very much a legal positivist. Creating legal certainty, and thus combating arbitrariness, is the merit of the jurist to society. However, acting against the law and in doing so being fair can provide legal certainty to those affected.
Alex Geert rounds off with wise words in the form of the tale of the Medes and Persians, which Scheltema wrote about in relation to the benefits affair. In this story, a king is advised to adopt a law, the transgressor of which is punished, without exception, by being thrown into the lion's den. However, his most favourite advisor is the first to be punished according to this law. The king's other advisors force him to keep his word. Alex Geert invites us to take inspiration for the law from this story.
Listen the episode here (in Dutch):
Or follow Leiden Law Cast here:
More Leiden Law Cast episodes:
More information about Leiden Law Cast here.